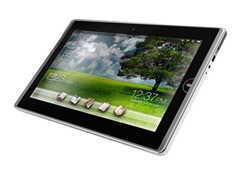 WindowsforDevices has a great list of items Microsoft need to succeed in the suddenly burgeoning tablet market.
Now many may say stating obvious advice is a bit condescending to Microsoft, who surely have a plan to succeed already.  However missteps like the KIN and ZuneHD, and Windows Mobile in recent years leads to little confidence in Microsoft's judgement, so a little bit of advice may not be out of order.
Here is a short summary of WoD's advice.
Stop being complacent.
Recent statements by people like Steve Guggenheimer, vice president of Microsoft's OEM division, with a heavy emphasis on Windows 7, suggest the company does not understand the threat they are facing.
Divide and conquer.Standardize on one x86 OS and one ARM OS.
Windows 7 on large tablets is fine, but anything 10 inches and under should be Windows Embedded Compact 7.
Enforce a uniform user interface.
WOD notes a diversity of user interfaces cause the Microsoft brand to be lost, sucks momentum from the platform and confuses customers.
They note:
A commonality between devices means users can educate one another, enjoy an easy learning curve when they switch from gadget to gadget, and benefit from "For Dummies" books if they're so inclined.
They suggest a Windows Phone 7 type user interface with cross compatible applications.
Optimize the media experience, with an emphasis on freedom.
Microsoft's Zune service is a start, and should come standard with each tablet.
Market directly to consumers.
With electronics becoming cheaper the consumer market has increased in importance tremendously. The customer is now no longer the CIO but Mom and Pop. The features of the device should emphasize this.
Encourage OEMs to innovate in hardware. Don't compete with partners by producing own-brand hardware.
WOD notes OEMs meddling with software has never resulted in a good experience with Windows, and on Windows Mobile it has merely been tolerated due to Microsoft's neglect of the platform.  Microsoft should stick to doing the software, and OEM's should compete with each other on the excellent hardware features of their devices.
Leverage dominance of the PC operating system market.
Possibly the most important point, they note Microsoft should make Windows tablets the best companion for Windows laptops and desktops, with remote desktop clients, Office software and synching software.
Windows for Devices go into a lot more detail on the various changes Microsoft needs to make to be a player in the market, but I think the above action plan will be enough to give Microsoft a good start.
Is there anything out readers want to add? Let us know below.