If you're reading this, chances are that you are a Microsoft enthusiast. Even more assuredly, people who are fans of Microsoft are typically focused on the consumer product market. However, Microsoft's revenue backbone is solidly grounded in decidedly non-sexy enterprise software and services.
The Microsoft Ignite Conference showcases the company's enterprise products and services, while providing incredibly valuable IT training. It also provides plentiful opportunities for IT professionals to get together for collaboration and networking. Microsoft prefaces this year's Ignite conference this way:
"The best and brightest minds will be all in one place to talk cloud infrastructure and management, productivity, big data and the internet of things, unified communications, mobility and more. So welcome, thinkers. And get ready for a glimpse at what's possible today and in the future."
As enterprise-focused as Ignite has been and continues to be, many less-technical consumers (like myself), still take notice of the conference due to its keynote presentations and press announcements. In the past, Ignite was always held in the spring, and, as far back as I remember, was always hosted in one of my favorite cities; Chicago. Over the past couple of years, Microsoft has made it obvious that they were shifting their focus further towards having their own reveal/launch events instead of collaborating with other large technology events.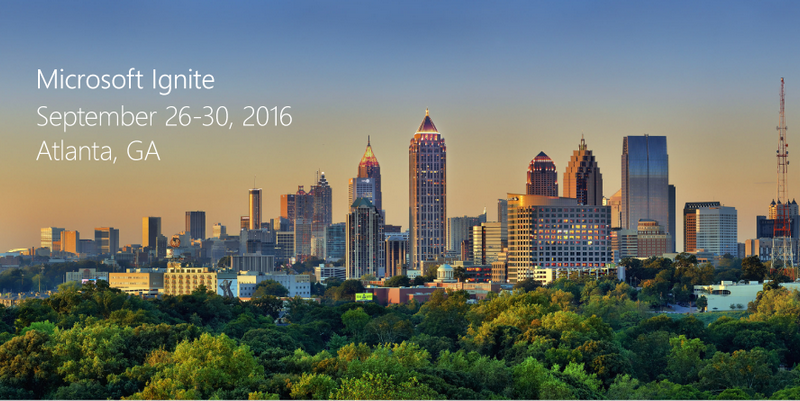 CES (the Consumer Electronics Show) is the most notable example, at which Microsoft used to have one of the largest "booths" (which, BTW, is a very broad use of the term) and hosted one of the premier keynotes at the expo. Another similar example is Mobile World Congress. In recent years they have backed away from that direction, and have been hosting their own events. Build, Convergence, and WPC are examples, along with this specific conference; Microsoft Ignite. This year Microsoft is shifting the time of the year for Ignite from May to August in an attempt to better suit those that want to attend as many events in the year as possible. The hosting city has changed as well, with Atlanta Georgia being selected for 2016.
MSPoweruser will be on site in Atlanta for Ignite this year, sharing with you the latest in what Microsoft is doing for enterprise IT professionals. We will do our best to sift through and distill the information unfamiliar to many consumers, and share it in a way which is meaningful and relevant. Watch for more on the site, and be sure to listen to the podcast as I do my best to sort through it all!