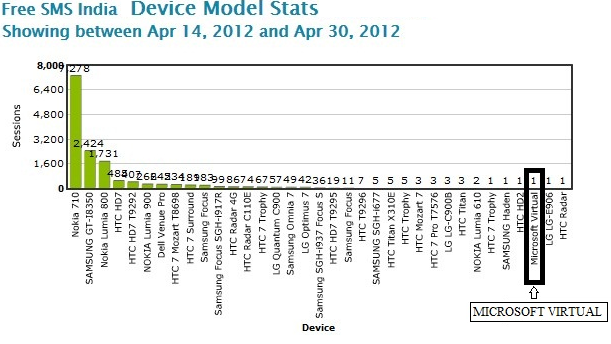 In an interesting development today, the developers of the very popular SMS app Free SMS India saw an new device show up in their stats.
That device is named "Microsoft Virtual" and has of course been seen before, but has been assumed to be a Windows Phone 8 emulator.
The developers of Free SMS India however have a different theory.  What if 'Microsoft Virtual' is a Windows 8 virtual machine for Windows Phone 7 apps, allowing WP7 apps to run on Windows RT tablets, unmodified?
If it is true, that move might just bolster Windows tablets case, as there will already be more than 100,000 apps available by the time Windows 8 tablets are released.
This is the strategy Apple applied in case of the iPad, and of course that turned out quite well.
Do our readers think this move is likely, given that Microsoft already said Windows Phone 7 apps will run on Windows Phone 8, or will Microsoft insist Windows RT buyers start with a nearly empty Marketplace? Let us know below.