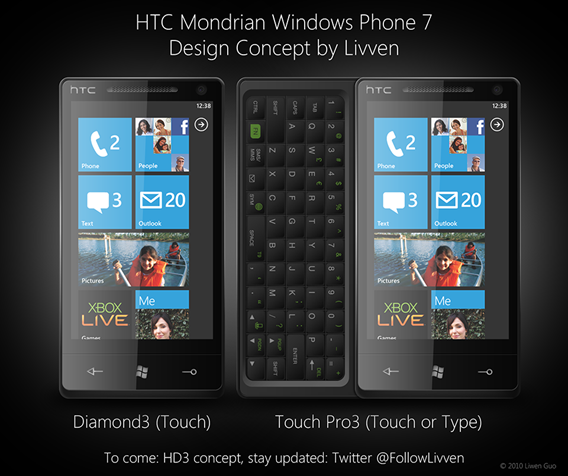 As we all know the HTC Touch Pro, and Diamond where the best looking, and most innovative devices of their time, and it brought HTC Truly out into the general public, well this concept brings that back. The concept for the Touch Pro3, and Diamond3 was created by my buddy Livven, and wow did he do a good job.
The Touch Diamond 3 is pretty much the same look of the original devices, but it is missing something. It does not have the D-pad, but what it should have is glowing buttons. If I was Windows designer, I would require all devices have the Windows menu button change colors, and it would be blue, green, red, and yellow. These colors would also be used for notifications, and when touch it all glows. That is pretty much my thought on that. The Touch Pro3 is also very cool, it's pretty much the Diamond but with a Fuze keyboard, which is a bit of a letdown for the concept. I would have gone with the Touch Pro2's keyboard, or maybe even a virtual slide out keyboard that is all on a big screen, and have 8 finger touch capability. This is possible, and would be really cool that your device slides out, and reveals a new screen that's a keyboard.
While my ideas are totally unnecessary, and most likely expensive, I think it does not take away from this great concept created by Livven.
Comment below and tell me what you think of it. Don't worry the HD3 concept is on its way.