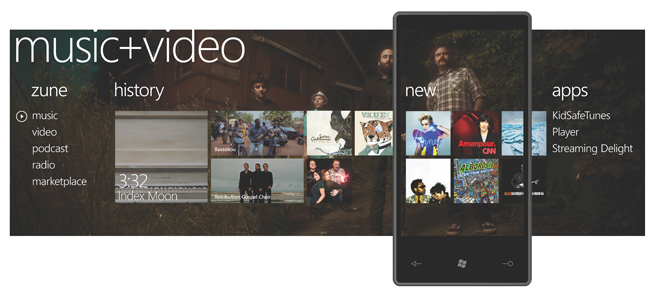 Today our Cupertino Colleagues are set to unveil their fall 2010 lineup of music and video devices and services, and as always, the tech gossip sites have run amok with rumors and speculation of what's next for Apple's biggest cash cows. At the end of the day, after all is said and done at One Infinite Loop, the collective eye of the tech world will shift to Microsoft for its response with its still-nascent yet commercially troubled Zune brand. Of course, this isn't a normal year for Redmond & Co., as its set to launch its revamped Windows Phone OS to compete with the opulent beasts from Apple, Google, and Research In Motion. Given how Microsoft is set to focus so much on phone this fall, it can be safely deduced that there won't be a hardware refresh to its (non-phone) Zune devices this year. Indeed, we might be seeing the end of Microsoft's efforts in the MP3 player market, with Zune moving on as a service to phones, Xboxes, PCs, search engines, etc.
Given this context, what can we surmise will be Microsoft's plans for the Zune brand as it relates to its Three Screens & Cloud strategy this year? Will abandoning its hardware MP3 player aspirations hurt its reputation, or will it free up resources to use in other areas? Can it ever topple our Fruity Opponent's media ecosystem? As a first step, let's take a look at what's already known about Zune this year based on Microsoft's demonstrations so far.
What We Know
Back in February in Barcelona, Microsoft made it a point to say that "every Windows Phone 7 will be a Zune." Zune functionality, curiously, is not its own hub. Instead, it is part of the larger Music + Videos hub, which, as Microsoft also emphasized, will include third-party music & video services. Some of the services that have been announced include Pandora and Netflix streaming. Also on the device will be Zune Pass streaming over 3G, as well as Wi-Fi sync with your desktop computer when on your home network.
In terms of the software (which will be 4.7, and yes, the "7" is for Windows Phone 7, as explained by skipdeez in Zune Insider Podcast #78), Zune will become the sync application for Windows Phone 7, handling music, pictures, video, and apps. According to Thurrott, one of the big changes to the software is distinguishing between purchased and DRM-free videos. It will also list all the videos you have ever purchased or rented from the Zune service, and, in his own words, "make them available [to stream] at any time, from any Zune compatible device." That's big.
On the Xbox front, at E3 Microsoft announced that starting this fall, Zune Pass streaming is coming to the Xbox 360. They also demoed a slick-looking Zune UI for Kinect.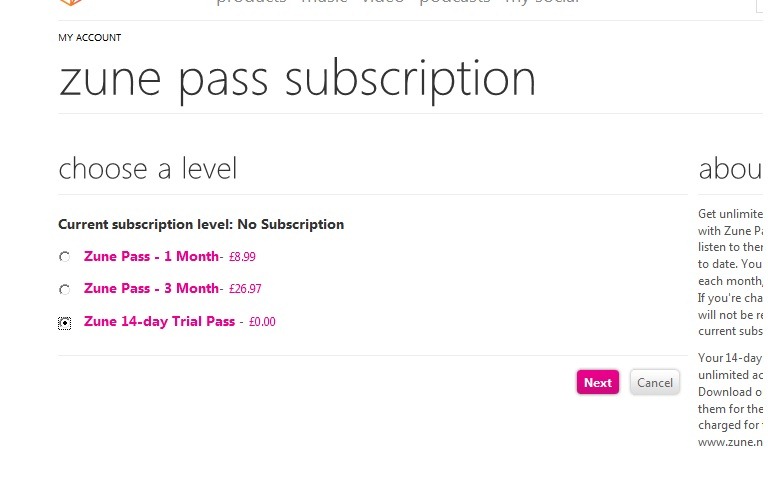 What's Been Leaked/Rumored
Microsoft has been keeping its Zune news close to the chest, but there have been some leaked information that they have not announced yet, and they are both related to Zune Pass.
First, back in late May, a Microsoft executive hinted that Zune Pass might be getting a price cut in the future to "better compete with Apple and RealNetworks." It has also been rumored that Microsoft is looking to have tiered Zune Pass subscriptions, with the current one being called "Zune Pass Plus", and a lower one, without the 10 free credits and only one device, at $5.
The second, more concrete rumor, came in mid-July, from a Briton who stumbled across a page on Zune.net that featured Zune Pass at £8.99 per month, approximately $14 USD. This bit of news was very brazenly denied by the Zune Insider podcast the week of the rumor. It doesn't take a genius, however, to realize that Microsoft will need to bring the Marketplace and Pass available to international markets because, as they said at MWC, Zune will go wherever Windows Phone 7 goes.
What We Don't Know/What We Wish
I'm sure our Zune wishlists differ widely, so I'd like to present you with my list of features I hope Microsoft will bring to Zune this fall. Some of them are obvious, others I think have wide popularity, and still others are a bit more far-fetched. One can only dream. Here we go:
Smart DJ on Windows Phone 7, Xbox 360, and Zune.net
Zune Video Pass.
Podcast downloading/streaming from device.
The return of music/picture sharing on the device.
Native audiobook support.
Remaining major studios for Marketplace (most obvious and also most unlikely: Disney, which is partly owned by Steve Jobs)
There hasn't been a big Zune Social update in 2 years…Some of the things I wish they ported from the Zune social on Zune.net are personal top artists, followed artists, favorite songs, badges, top listeners to artists/albums, and the ability to comment on someone's profile.
TV-out from Windows Phone 7 devices, in high-definition.
Lyrics. Already on Bing. My guess is that it will be a Zune Pass exclusive.
The ability to choose between 5-star rating and heart/broken heart rating.
On device, Genre can be navigated by album AND song.
Customize playlists and videos. Choose thumbnail for video, and choose either thumbnail or solid color for playlists.
On-device editing/updating of smart playlists.
Smart playlists may include songs in the Zune Marketplace if you have Zune Pass.
Mixview on device, TV-out and Xbox 360.
Bring together Windows Phone Live, Zune Social, KIN Studio, and Windows Live Mesh.
What are your wishes for Zune this fall?