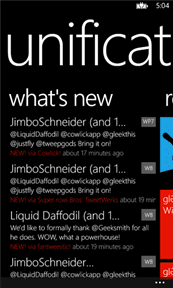 Unification Centre was an ambitious effort by developers Liquid Daffodil to replace the missing Notification Centre in Windows Phone.
We never did cover it much on WMPU as it seemed doomed to fail – it required too much cooperation from other Windows Phone developers to be a viable solution, and was a good example why 3rd party developers can not really compensate fully for missing OS  plumbing.
Predictable the project is now being shut down, with Liquid Daffodil placing the blame on 3rd party developers not buying into the system, despite numerous requests from users.
The functionality will continue to work until the end of October, though the Liquid Daffodil is urging developers to update their apps and remove the feature, and will after that be exclusive to Liquid Daffodil first party apps.
Do our readers agree the app never really had much of a chance? Let us know below.
Via WPC