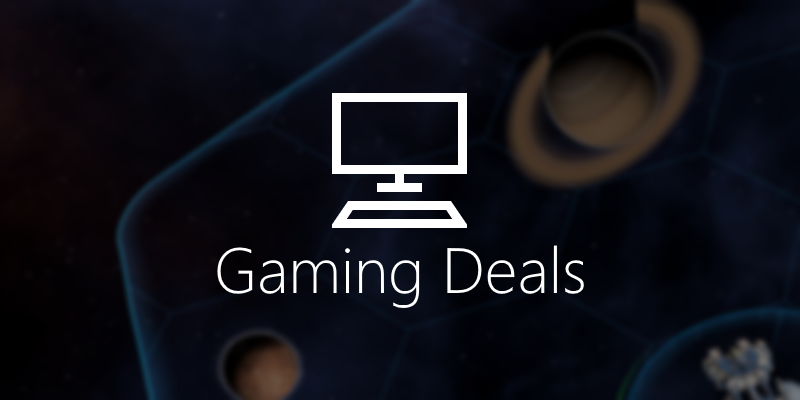 It's Friday, or alternatively, deals-day. This week's deals include space strategy from Stardock, Guilty Gear, and even a few freebies! While some free things aren't exactly deals, not everybody has money to splurge on sales. Either way, as it's often easy to get lost looking for (and through) sales, we gather some of the best deals and list them here every Friday.
Steam deals
While Steam doesn't have any publisher sales like it has over the previous couple of weeks, there's still a sale on the Wargame franchise. For the most part, though, each game on sale is part of an individual promotion. A new free game worth mentioning is indie studio TinyBuild's brand new game One Troll Army. Originally intended to be released as a paid title, TinyBuild held a competition on Twitch. If Twitch users (who controlled enemies in the game through Twitch chat) could beat the developers at their own game the game's price would go down until it became free. Needless to say, Twitch chat won. The only content for this game that can be bought with actual money is a $2 costume pack.
Recommended games on sale:
Galactic Civilizations III ($13.60) – Galactic Civilizations is considered one of Stardock's best franchises, and while III has too much DLC for some people, it's still Galactic Civilizations. You can also get 50% off the Stardock bundle to get some of their best games, including Galactic Civilizations I and II.
The Witcher Trilogy ($1.49 for 1, $2.99 for 2, $24.99 for 3, or $29.59 for everything) – The Witcher games are absolutely huge RPGs. It's possible to spend hundreds of hours on the franchise, and they're definitely worth the price. Just be sure to check and make sure that you're capable of 3.
Euro Truck Simulator 2 ($9.19) – Euro Truck Simulator 2 is definitely a niche game. It's a realistic trucking simulator, but it somehow manages to be a really relaxing game. Taking long drives through the European countryside is calming, even if driving with a mouse and keyboard might take a little time to get used to.
GOG Deals
I suppose this section's permanent now, even if I never thought it would be. GOG has had excellent weekend sales over the past few weeks, and this week is no different. This weekend's deals are often super cheap, bringing the price on some games as low as 59 cents.
Recommended games on sale:
Guilty Gear X2 #Reload ($2.99) – The Guilty Gear franchise is my personal favorite bunch of fighting games. They're fast, fun, and have fantastic music. This GOG release includes the soundtrack, which is worth more than $2.99 on its own. If you enjoy fighting games (or don't mind learning how to play them) I would definitely recommend this game.
Deadly Premonition: Director's Cut ($3.99) – Considered by many to be the Twin Peaks of video gaming, Deadly Premonition is a supernatural horror/action adventure hybrid. While previous PC releases had some issues, the GOG release is fairly stable.
La-Mulana ($3.74) – This is another game that benefits from having its soundtrack included with it. La-Mulana is a platformer similar to the older Castlevania games, and it's a lot of fun. It's a difficult game with a lot of content.
Other bundles and sales
There's always going to be some good deals around the web that don't fall into the previous categories, and this week is no different from any other in that regard.
Humble Deep Silver Bundle 2 ($1 for 5 games, BTA for 3 more games, and $13 for another 2 games) – This is currently a cheap bundle (at the time of writing the BTA price is below $4) with a lot of AAA games, like Saints Row 3.
Pick & Mix ($3 for 3 games, $4 for 5 games, $6 for 10 games) – This one's a neat bundle. I appreciate being able to pick out the cream of the crop from the list of available games, and there's some really good ones in there, like Sanctum.
Are there any deals or sales you want to share? Let us know in the comments below!