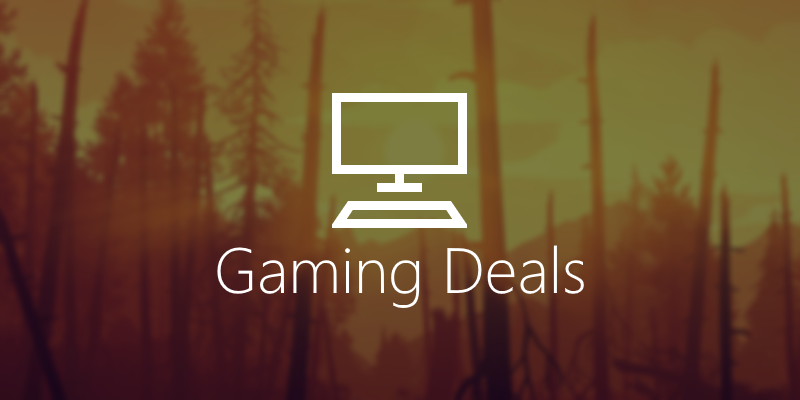 Friday's here again, and this week's deal roundup is here, too! This week's deals include games published by Bohemia Interactive, the Darksiders franchise, and way more. As it's often easy to get lost looking for (and through) sales, we gather some of the best and list them here every Friday.
Steam deals
While Steam doesn't have any huge sale as its featured image this week (the new Doom holds that spot), there's some sales hiding out in the little rectangular box slightly below and to the right of that. There's some individual games on sale like Firewatch, but then there's a sale on Bohemia Interactive games.
Recommended games on sale:
Civilization V ($7.49) – Considered by some to be the greatest strategy game of all time, Civilization V is a massive strategy game. If you're a fan of historical games or even just turn based strategy, you'll likely pour hundreds of hours into this game. The downloadable content is also on sale too, so if you already own the base game it might be a good idea to buy that.
Arma 2 ($2.59) – Arma 2 is an incredibly serious military simulator. It definitely isn't for everyone, but it's another game that you'll spend a lot of time on if you're into it. Its big brother Arma 3 is also on sale for $19.99.
Astebreed ($4.49) – Astebreed is a fast paced bullet hell game, but it's surprisingly easy to get into. It has a forgiving easy difficulty, isn't too long (It might take you an hour to an hour and a half to complete, depending on difficulty), and also has some replay value. It's one of those few games I decided to play again right after I completed it.
GOG Deals
Shocking even to me, GOG has enough good sales that it's deserved its own section three weeks in a row. It definitely doesn't have as many sales as Steam, but there's been a really nice selection lately. Being able to buy games without any DRM is also a plus, too.
Recommended games on sale:
Darksiders II ($2.99) – This is the "Deathinitive" version of Darksiders II. It includes all of the game's downloadable content and higher possible resolutions than the original PC port. It's a great game, and it's possible to buy it together with the original Darksiders for only $4.98.
Impossible Creatures ($2.99) – Impossible Creatures is a somewhat silly real time strategy game where you combine different animals to make your army. It's a goofy (or scary, depending on how many giant insects you choose to make) game that's fun no matter how or who you play it with.
Braid ($7.49) – One of the biggest indie hits in video gaming, Braid is a time twisting puzzle platformer with a lot of neat ideas. While it's not one of my favorite games of all time, it's still one I can recommend experiencing at some point.
Other bundles and sales:
There's always going to be some neat bundles around the web, and this week is no different from any other in that regard.
Humble Capcom Super Turbo Remix Rebundle ($1 for 4 games, BTA for another 4 games with more coming soon, $12 for two more games.) – While this is a rebundle, it's still a great deal. I bought the BTA of this the first time around, but it's tempting to get the $15 tier just for the special edition of Devil May Cry 4.
Must Play Bundle 2 ($3.99) – While I'm not sure that all of the games in this are "must play", there's still enough good ones in here to justify buying it.
Are there any deals or sales you want to share? Let us know in the comments below!