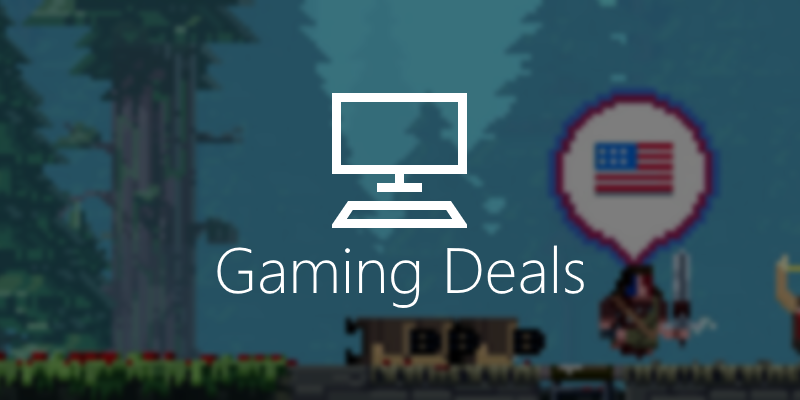 It's Friday once again, which means it's time to go over this week's best PC gaming deals. Steam has a huge publisher sale for Devolver Digital's games, the Humble Store has begun their Spring sale, and the force is strong with GOG's Star Wars sale. As it's often easy to get lost looking for (and through) sales, we gather some of the best and list them here every Friday.
Steam deals
As always, Steam is the king of deals. Their currently running sales include the Devolver Digital publisher sale, a sale on the Zombie Army trilogy, and up to 80% off the Dead Island franchise. You can also get 75% off the starter version of EVE Online, which is a cheap way to start the game.
Recommended games on sale:
Broforce ($5.99) – It doesn't matter if you play it solo or with friends, Broforce is a really fun game. It's an incredibly explosive run 'n gun shooter that pays homage to (and pokes fun at) American pop culture. If you'd like to try out some of the game's mechanics before you buy it, I'd suggest trying The Expendabros. It's the closest you'll get to a demo.
Downwell ($1.49) – Downwell is a cheap and addictive rogue-like. The premise is simple: your goal is to get to the bottom of the level, and you have gun boots. It's an incredibly simple game with incredibly simple controls, and it's really easy to get into. Be prepared to die a lot, though.
Serious Sam Complete Pack ($9.99) – The Serious Sam franchise is a lot of fun. It isn't serious whatsoever and isn't afraid to go crazy. The complete pack is actually complete, containing every single game (or piece of downloadable content) in the franchise. If you enjoy a fun first person shooter, Serious Sam is highly recommended.
GOG Deals
While I didn't really expect GOG to deserve its own section in here two weeks in a row, their Star Wars deals are still running, and they contain some excellent games.
Recommended games on sale:
Star Wars: Knights of the Old Republic ($2.49) – Knights of the Old Republic is a classic RPG. It's one of the best Star Wars games ever made, if not the best. It's your own journey throughout the Star Wars galaxy, allowing you to become a Jedi and choose between the light side or the dark side. You can also buy this game's sequel for the same price.
Star Wars: Republic Commando ($2.49) – If you've ever wanted to know what it's like to command a squad of clone troopers, this is the game for you. It's a tough team based FPS where team-based tactics are needed to survive.
Star Wars: Jedi Knight – Jedi Academy ($2.49) – While it definitely hasn't aged as well as some of the other games on this list, and there might be some issues here and there with running it on modern machines, Jedi Academy is another really fun Star Wars game. Like Knights of the Old Republic, Jedi Academy lets you create your own Jedi and go on your own adventure.
Other bundles and sales:
While Steam and GOG have the main spotlight again this week, there's always some extra sales and deals around the web that deserve to be mentioned.
The Humble Store Spring Sale: The deals are changing each day, but there's plenty of good things on sale here.
Indiegala Friday Special Bundle ($1 minimum, $2.99 until the price begins to increase tomorrow): For merely $3 it's possible to get Gunman Clive, its sequel, Dyscourse and plenty of other games. It's worth looking into.
Have any more deals you want to share? Post them in the comments below!