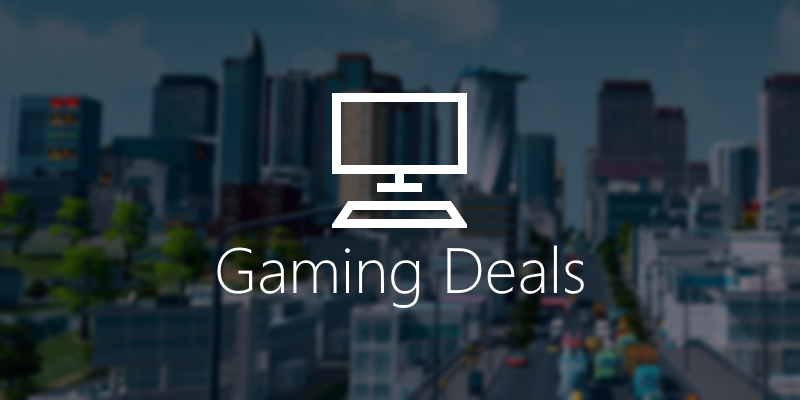 Friday's here again, and it's brought the deals with it. This week's deals include some unreal tournaments, cities that reach the skyline and more. As it's often easy to get lost looking for (and through) sales, we gather some of the best deals and list them here every Friday.
Steam deals
Steam doesn't seem to have a major franchise sale this weekend, opting for 30% off Steam hardware instead. This brings the price of the Steam Controller down to $35, and the same goes for the Steam Link. I haven't tried out the Link, but it's pretty tempting to get one now to play my PC games on my TV. Sadly, there doesn't seem to be any weekend trial for any games this week.
Recommended games on sale
Dino D-Day ($0.99) – Dino D-Day is a very good online shooter that often has a very low price tag. It's a first person shooter set in a what-if scenario where the Nazis decided to resurrect dinosaurs. It's a fun game with a sense of humor, and you can pick up a 4-pack for $2.99 if you want to play it with friends.
Cities: Skylines ($10.19) – Cities: Skylines is what many wanted from the recent SimCity games. It's a very open city builder where you can build the city you want to build. The game's DLC packs are also on sale.
The Daedalic Comedy Selection ($6.74) – This is a bundle of 4 games by the company Daedalic. They're a company that usually makes point and click adventure games, and they make some really good ones. Deponia's included in this bundle, and it's a personal favorite of mine.
GOG deals
GOG recently announced the ability to link your Steam account to your GOG account and get free backups of some of your Steam games on there. I'd highly recommend doing this, not only in case anything happens to your Steam account, but GOG's versions of the games come with a variety of bonuses. There's a limited selection of games you can link as they work with developers and publishers, so it's best to check the connection page often.
Recommended games on sale
Unreal Tournament 2004 ($2.49) – The Unreal Tournament games are super fast arena shooters, and 2004 is no different. If you don't mind some dated graphics and potential compatibility issues, (I had resolution issues, even with the GOG release) I can recommend this.
Trine 2 ($2.99) – Trine 2 is a co-op focused puzzle platformer, but it's still fun if you play it on your own. Trine 3 is also on sale, but it's generally considered to be disappointing.
Saints Row: The Third – The Full Package ($3.79) – Saints Row 3 is an insane GTA competitor. The game's sense of humor doesn't work for everyone, but it's got a good price for the amount of content offered. Might want to check out some gameplay videos of it to see if it's your thing.
Other bundles and sales
There's always going to be some good deals around the web that don't fall into the previous categories, and this week is no different from any other in that regard.
Indiegala store special offer (Spend $2 in the store, get Call of Juarez and Asteroid Bounty Hunter for free) – Indiegala's special offers in their store are usually small, mediocre games, but Call of Juarez definitely doesn't fit into that category. If you're looking for a cheap game to spend just over the needed amount, try out Deadly Premonition. It's currently $2.49 and is a good game on its own. Alternatively, Batman Arkham Origins is only $5.
Bundle Stars Anime Sale – If anime games are your thing, Bundle Stars has an alright selection of them on sale.
Are there any deals you found that aren't listed here? Let us know in the comments below!