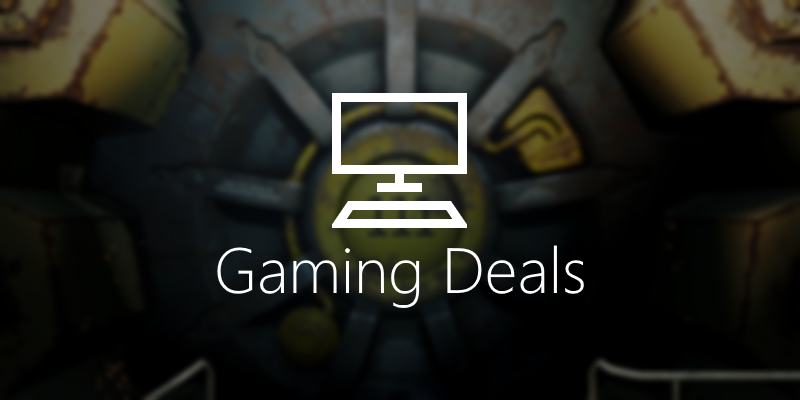 It's Friday again, so it's time to list this week's PC gaming deals. As it's often easy to get lost looking for (and through) sales, we gather some of the best deals and list them here every Friday. This week contains a lot of fighting games, some classics, and a deal that the featured image has spoiled.
Steam deals
Sales have finally recovered from the post-Summer sale drought, and there's a lot of them. Undertale is only $6.99, Under Night In-Birth has arrived on Steam with a 20% launch discount, and Arc System Works has a nice sale on their library running right now.
Recommended games on sale:
BlazBlue: Continuum Shift Extend ($6.79) – BlazBlue is one of my personal favorite fighting game franchises out there. While its older brother Guilty Gear is my preference, it's still a really fun game. BlazBlue Calamity Trigger is only $2.49, but its PC version lacks online multiplayer. If you only feel like spending under $3 on games this weekend, though, it's still a good way to get into the franchise.
Melty Blood Actress Again Current Code ($19.99) – Melty Blood is a pretty unique fighting game, and the game with the strangest name on Steam. There's three different stances for each character, with each one changing up their play style significantly. From my experience it isn't a very difficult game to get into, but you're going to want to use a controller with it for sure.
Supergiant Collection ($7.17) – Supergiant's a company that I'm really quite fond of. Bastion is probably my favorite game of all time (sorry, Knights of the Old Republic!) and Transistor is a spiritual sequel to it. This collection also includes the soundtracks to each game, which are excellent.
GOG deals
In a move that's surprising to some, GOG's teamed up with Electronic Arts to release some of their games on the platform. These have no Origin requirement, and you can enjoy everything offline. The three on the homepage are Dragon Age Origins, Dead Space, and Sim City 3000.
Recommended games on sale:
Dragon Age Origins: Ultimate Edition ($7.99) – Origins is my favorite game in the Dragon Age franchise. I'm not a huge fan of the other entries in the series, and Origins really has everything I'd want in a RPG almost perfected. The dungeon crawling is enjoyable, the story is good, and the characters are interesting.
Giants: Citizen Kabuto ($3.99) – Giants is a really unique and really funny shooter. It's aged really well and has a lot of charm.
Freespace 2 ($3.99) – Freespace is one of those games with a really dedicated cult following, and there's a good reason why. It's considered one of – if not the best – space simulators of all time, and you can get it for next to nothing.
Other bundles and sales
There's always going to be some good deals around the web that don't fall into the previous categories, and this week is no different from any other in that regard.
Bundle Stars Indie Legends 4 ($3.49) – This is another bundle where there's a little bit of everything in there. Odds are that there's a game for everybody to enjoy in this, and it also has a 10% off voucher for the rest of Bundle Stars.
Fallout 4 ($29.99) – Yep, this is the one spoiled by the featured image. Some might argue that the best has been saved for last whilst others might argue that New Vegas was better, but 50% off Fallout 4 is still a good deal.
Have any deals you want to share? Post them in the comments below!