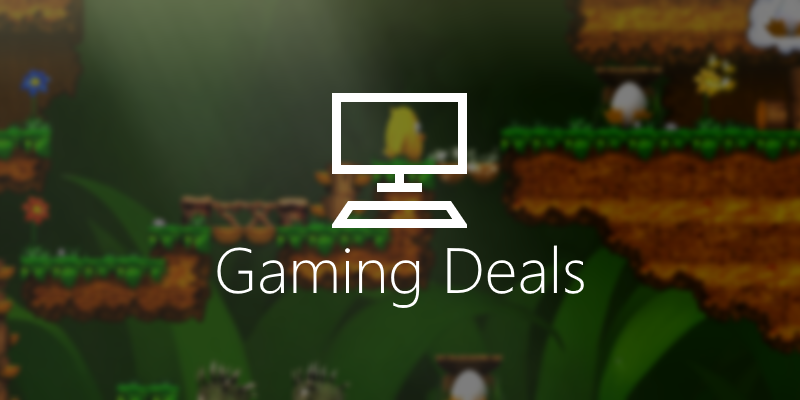 It's Friday again, so it's time to list this week's PC gaming deals. As it's often easy to get lost looking for (and through) sales, we gather some of the best deals and list them here every Friday. This week is a bit of a weak one as the Steam Summer Sale just ended on Monday, and it's going to take a while for sales to get back up to a regular level.
Steam deals
As mentioned above, there's far fewer games on sale than usual right now. Steam's only deal in the featured box right now is Broforce, which is highly recommended (and a game I've recommended on here before). It's definitely worth the $6 if you don't have it already. Additionally, TinyBuild has released yet another game for free. This game is called Boid, and it its main DLC is a single player campaign. The game's multiplayer is completely free, and it might be worth checking out.
Recommended games on sale:
Elite Dangerous: Arena ($0.00) – Yes, you read that right. $0.00. Arena is the PVP component of Elite Dangerous, and is normally sold on its own for $7.49. Owners of Elite Dangerous get it for free already, but the free offer for everybody else ends on Monday. Add it to your library once, keep it forever.
Two Tribes Pack ($2.99) – Two Tribes is a company that develops some really relaxing games. Their focus is on puzzle games, but each one of those puzzles games is packed full of variety. You can also buy each game in this pack for a low price individually, and the original Toki Tori (which is $0.49) is especially recommended.
Danganronpa: Trigger Happy Havoc ($20.09) – This is one of the few visual novels on Steam I'll recommend. It's more than just reading text, and solving crimes is always enjoyable.
GOG deals
GOG has far more games on sale than usual right now, and there's some really good ones in there.
Recommended games on sale:
Celestian Tales: Old North ($4.39) – Celestian Tales is a turn based RPG that tries to act old school. It definitely has some flaws (with some of these being sprites that look alike), but I enjoyed it. It's worth the price.
Slave Zero ($1.49) – Slave Zero is a classic game that's aged amazingly well. It's an enjoyable third person shooter where you control a biomech, and it's just as satisfying in 2016 as it was in 1999. The GOG release contains compatibility fixes for modern Windows that the Steam release doesn't have, so definitely buy it here.
Tropico 5 Complete Collection ($15.99) – At its core, Tropico 5 is more of the same. It has plenty of improvements and additions you won't find in previous games in the series, like the dynasty system, but it's still Tropico. More of the same isn't always bad, though. If you enjoyed Tropico 3 or 4, 5 is definitely a game you'll also like.
Other bundles and sales
There's always going to be some good deals around the web that don't fall into the previous categories, and this week is no different from any other in that regard.
Humble Store XCOM Weekend Sale – The XCOM games are great strategy games, and you can pick up the modern entries in the franchise for good prices here.
Action Heroes 2 Bundle ($2.99 for 9 games, $4.99 for 17) – Bundle Stars' Heroes line of bundles are usually pretty good, and this one is no exception.
Have any deals you want to share? Post them in the comments below!