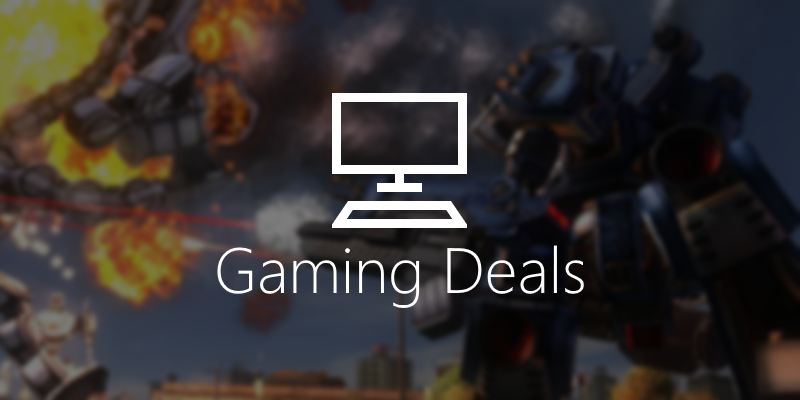 It's Friday again, so it's time to list this week's PC gaming deals. As it's often easy to get lost looking for (and through) sales, we gather some of the best deals and list them here every Friday. This week contains some free stuff and EDF! EDF! EDF!
Steam deals
This is a pretty good week for Steam deals. There's a big sale on games published by Team17, which includes The Escapists and Alien Breed. The first episode of Life Is Strange is now also completely free, and it might be worth checking out.
Recommended games on sale:
Earth Defense Force 4.1: The Shadow of New Despair ($34.99) – EDF (EDF! EDF!) is finally on PC, and it's got a 30% launch discount. The Earth Defense Force franchise is insanely over the top and fun, but the console versions have huge performance issues. Thankfully it's now possible to enjoy defending the third rock from the sun at a solid 60FPS, assuming your rig is good enough.
The Incredible Adventures of Van Helsing ($3.74) – While the later entries in the franchise are apparently just more of the same, I really did enjoy Van Helsing 1. It's a game that really puts the action back in "action RPG", and tearing through hoards of monsters as the original vampire slayer is a lot of fun.
Worms Armageddon ($3.74) – The Worms games are really timeless, and Armageddon has aged the best out of the older ones. There's far more than just nostalgia that makes this game good.
GOG deals
GOG currently has some nice weekend deals running, including some sales on Night Dive Studios games.
Recommended games on sale:
System Shock 2 ($3.99) – Sometimes you just have to ask yourself what it's like to be afraid. If you'd like to find out the answer (and also find out what it's like to play a really good RPG/FPS hybrid), System Shock 2's the game for you. I'd also recommend watching the excellent trailer.
Psychonauts ($0.99) – Psychonauts is possibly the best 3D platformer ever made. It has a great cast, memorable art, and really fun levels. Getting this for under a dollar's beyond worth it.
Brutal Legend ($1.49) – Admittedly my thoughts on Brutal Legend are a little mixed. The game does a great job at being a hack 'n slash, but does a less than stellar job at being a real time strategy game later on. It's still under $2, though, and that isn't too much to lose if you don't enjoy it after the first six or seven hours.
Other bundles and sales
There's always going to be some good deals around the web that don't fall into the previous categories, and this week is no different from any other in that regard.
Splinter Cell (FREE) – You can get Splinter Cell for free on Uplay right now as part of their 30th anniversary celebration. I tried out Uplay again recently, and all the issues I had a year and a half ago (which were mostly bugs) seem to be cleared up on it. Definitely worth giving it a second chance.
Sega Genesis Pick 'n Mix (Various) – Bundle Stars is running another pick 'n mix bundle, and this one lets you get Steam versions of classic Sega Genesis games for as low as two dollars for five different games.
Have any deals you want to share? Post them in the comments below!