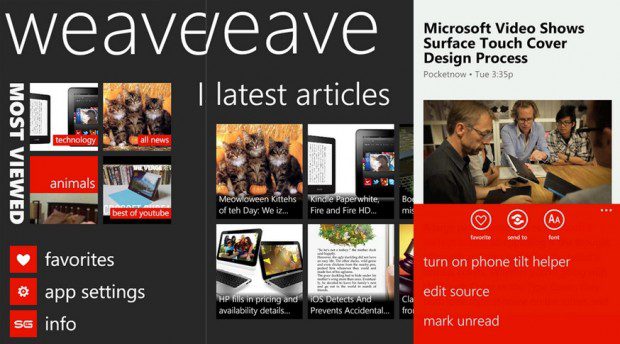 Weave News Reader app for Windows Phone devices got updated to v8.6 with many exciting features. The most notable feature in this update is the support for Weave cloud services that will keep your app in sync with other devices running Weave. So, your article read state, favorites, feeds, etc, are stored in cloud and synced across all your devices. Apart from this, there are few nice additions like new article list layout called "Cards" and many bug fixes.
Full Change log:
New Cloud API

Updated to use the new Weave cloud services powered by Windows Azure – a news service similar to Google Reader or Feedly!
Your feeds and articles are saved in the cloud, accessibly from any Windows 8 or Windows Phone 8 device
Login via Microsoft, Facebook, Twitter, or Google accounts – your choice!
Freedom from being forced to use Google (e.g. Feedly)
Article state is synced – articles marked as "read" on one device will be marked as such on your other devices
Favorite your articles, then view them from any Weave client
View all your previously read articles

Visual Changes

New streamlined Panoramic home screen layout.
New article list layout: "Cards". Brings a beautiful new way to browse the news
All the old layouts are still available as well, bringing the total 4 different article list layout
All sources list. Now you can see how many new articles are available for each category/feed you subscribe to

Bug fixes

Fixed speech so it doesn't speak HTML codes anymore
Now automatically switches to webview whenever an article is unable to be mobilized
Download it here from Windows Phone Store for free.