myAppFree regularly suggests apps from the Windows Store which can be downloaded for free for a limited time only. A lot of aps have seen quite a user boost trough that already. Today's app is Weather Today.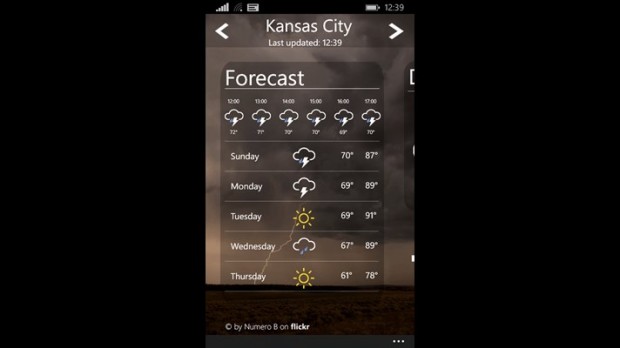 As the name already suggests, Weather Today is a weather application. The approx. 8MB big app can be found here. Find the list of its features below.
Accurate, local forecasts for nearly 3 million global cities. Forecasts include current conditions, hourly forecasts, and extended forecasts for the next 5 days.
Current weather conditions displayed with location name and time, highest and lowest temperatures in the day, current temperature, wind speed and wind direction, precipitation and, humidity, visibi[lity]
Add all your favorite locations using their names and easily navigate between them using the panoramic view.
Add cities using your zip codes (available for US and UK only)
No cluttered information anywhere. The information organized is legible and clear cut so that you can quickly grasp the current weather conditions and weather forecast.
Beautiful and extremely stunning Flickr photos from Professional Photographers as backgrounds of the app to complement the current weather conditions.
You can download myAppFree here.