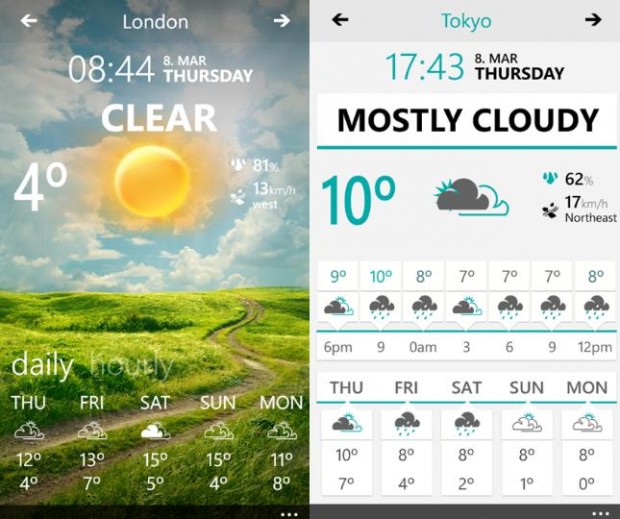 We have lots of beautiful weather apps in Windows Phone Marketplace,  add this app to that ever growing list. Weather Flow was developed by Gergely Orosz of Team Distinction who developed other two well designed apps Cocktail Flow & AppFlow. Weather Flow has two modes, one is Pure Metro style and other one is with rich visual animation. Both modes looks great to me.
App Description:
 Introducing the most beautiful weather app. The one with the best live tiles. Ever.

Don't let bad weather take you by surprise! Whether it's raining, cloudy, clear, warm or cold, Weather Flow will provide you with current weather conditions, hourly and daily forecasts. Forecasts and weather conditions are provided for your city and multiple locations around the world.

Pin your current location on your screen and the two sided live tile will show not only the current conditions, but also how the weather will be compared to yesterday and if it's a good idea to pack an umbrella. Add multiple cities to the app and switch between them to see what their weather is like – perfect for when you're planning to travel. Spice up the visuals by switching between a Metro theme and a visually rich theme, using which ever you're in the mood for.
The app currently lacks many features for now but expect updates from the developer soon. And another thing I found odd about the app is that it costs $1.99 with free trial available. The trial allows you to open app for 4 times, yes just 4 times.
Find it here from the marketplace.