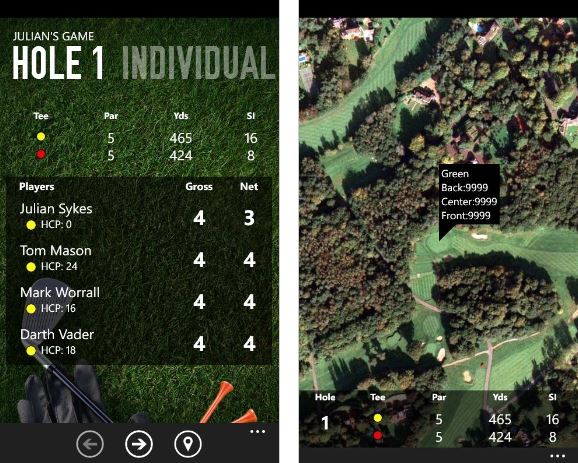 VPAR Golf App is now available for free from Windows Phone Store. If you don't own a Lumia device which has access to the Caddie+, a golf companion app developed by Executive Caddie, you can try this app.
App Description:
Welcome to the Ultimate Golf Experience. Used at 1000s of golf tournaments annually, VPAR is the world's most powerful live golf scoring system and is now available to every golfer directly on their phone.

VPAR's interactive, game-changing technology provides you with a real time leaderboard as you are playing. Capturing all the excitement and adrenaline of the game, you track your progress, check out the competition, and see what's happening live on the course as the game unfolds.

VPAR is more than just playing – it's competing, turning golf into a thrilling contest with your friends. VPAR is packed with essential features including GPS tracking, performance stats and analysis. VPAR: the most exciting way to get inside the game.

Features:

o Live Golf Scoring: Matchplay, Strokeplay and Stableford
o GPS
o Performance Stats
o Scorecard History
o Friends Messaging
o Group Messaging
o Games history
o Venue Search; info, weather, contacts, reviews
o Sharing on Facebook and Twitter
Download it here from Windows Phone Store.
via: AAWP