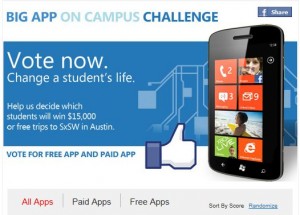 Microsoft just selected the top 20 apps in their Big App on Campus contest, which are now open for public voting on Facebook!
Earlier this year, Microsoft started an app development contest specifically for college students. In the first round, apps were judged by 40% innovation, 40% experience, and 20% potential.
Now the contest is in round 2, where the public's downloads and votes determine the winner. The app's score is determined 75% by downloads, and 25% by the amount of likes the app receives on the Big App on Campus Facebook Page. The top 5 free apps and the top 5 paid apps will continue onto round 3.
Round 2 ends at the end of February, so get your votes in and download whichever apps you think are best! My own app, Power Planner, is in the top 20!