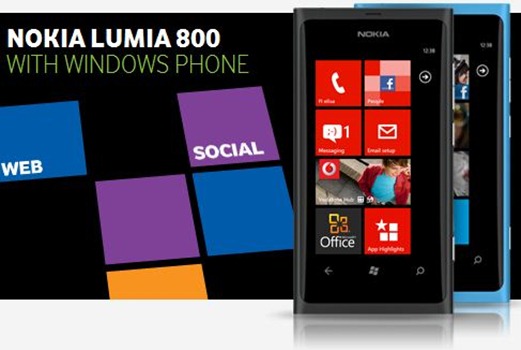 As Nokia said during its keynote today at Nokia World conference, mobile operators and dealers are showing incredible support for Nokia Lumia devices. Vodafone UK is going to take pre-orders of Nokia Lumia 800 device from Nov-4th. Its also giving away £60 of vouchers free for first 10,000 customers. They have a dedicated page for Nokia Lumia 800 where you can register for updates.
From Vodafone UK's Nokia Lumia 800 page,
Three good reasons to buy your Nokia Lumia 800 with Windows Phone on the network that gives you dependability and support:

First 10,000 Nokia Lumia 800 with Windows Phone smartphones come with £60 of voucher
Explore your phone's potential with our 3-Month Data Test Drive
Award-winning coverage for calls, texts and mobile internet
You can find the page here.