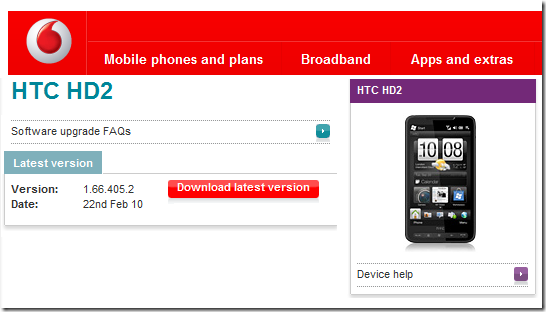 Its seems Vodafone is feeling the iPhone data squeeze, and instead of penalizing those notorious data hogs they are robbing Peter to pay Paul by adding overages charges to the supposedly "unlimited" data packages available to everyone else.
According to information posted on the official Vodafone eForum from June 1st the "unlimited" plan would no longer have a soft cap of 500 MB, but will instead revert to a hard cap of 500 MB, with each additional 500 MB costing and extra £5. This contrasts with T-Mobile offering 3 GB data for free.
As mentioned earlier, the changes are there to "make it fairer for everyone, and to protect our network from data abuse" but it will only affect users like Vodafone HTC HD2 owners, instead of real data hogs such as the iPhone, well known for their streaming and browsing habits bringing networks down all around the world. So much for fairer.
Read the full message after the break.
Hi Everyone,
Thanks for being patient whilst we got the right information for you.
We are planning to introduce Out Of Bundle charging for Pay Monthly customers from 1st June 2010. The reason we're introducing these charges is to make it fairer for everyone, and to protect our network from data abuse. We're introducing a real-time notifications service to be completely transparent about these charges and keep customers in control of their spend. No Out Of Bundle charges will happen this month but they will take effect from 1st June. The messages you've received this month were sent in error and no more will be sent out from today.
The charging will be as follows:
Monthly bundle customers will pay £5 for every 500MB after the first 500MB 
Customers without a monthly bundle will pay 50p for every 10MB after the first 25MB
Whilst you've all previously been used to there not being any Out Of Bundle charging, the current information available online is clear in explaining that we could introduce such charging at any time. The Vodafone Mobile Internet costs page does state: 
We'll keep an eye on things and let you know your options if it looks like you'll go over your 500MB Flexi or Value Pack limit. 
Our Pay Monthly Terms and Conditions already state that we reserve the right to charge for any usage beyond the Fair Usage limit:
27. All Vodafone services offered free or under unlimited subscription are subject to our Fair Use Policy. If, in the reasonable opinion of Vodafone, your use is excessive, we may ask you to moderate your usage. If, after we have asked you to moderate your usage, you fail to do so, we reserve the right to:
(a) charge you for the excessive element of your usage at your price plan's standard rate;
(b) throttle your usage; or
© suspend or terminate your service in accordance with your airtime terms and conditions.
So you can ignore the messages which have been sent so far, but there's the information we have on this subject.
Thanks,
Tom
What do our readers think of this rather underhanded move? Let us know below.