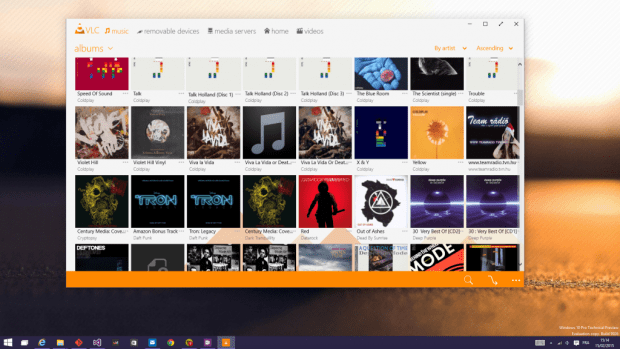 VLC for Windows Store just got updated in Store as an universal app. DLNA support and the ability to manually change the album cover has been dropped in this release. Both these features will come back in the future releases. Also, you can now create/edit a playlist on your device.
Changes:
Some features are dropped:

DLNA support. It is set to come back as soon as possible.
Manually changing the album cover. That will be back next week (and will also be available on WP)

New features:

Creating a playlist, editing a playlist (early support though)
Your videos are displayed in three categories: videos, camera rolls and shows. We automatically detect if a video is an episode of a show.
You can see the upcoming shows of an artist
Social sharing (« #NowPlaying Shake It Off – Taylor Swift »)

Bug fixes:

Hundreds of bug fixes
You can finally open a video, or a music file from the Windows Explorer, with the VLC Universal App. Should work fine. If it's not the case, tell us.
Download it here from Windows Store for free.