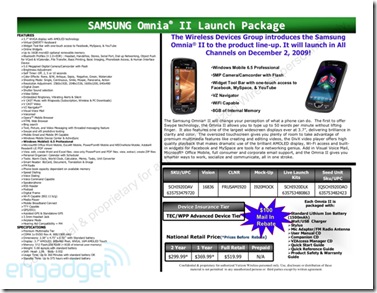 The big red VZW is going to be the first in the US to get the new Omnia2. The Omnia2 has been out around Europe for a while now, but it seems America is next on its tour bus to get a CDMA Omnia2 with its awesome features for a great price. VZW—America's biggest network(3G,Subscribers)—will get the Omnia2 on December 2nd for a really great $200 price tag with a contract of course which is still about the best price.
This phone does not only look good, but the specifications are even better and it has something no other Windows Mobile phone has. This phone is special because it is the first AMOLED phone to ever run WM, for the people that do not know what that is, AMOLED is just the best period. The only problem is that it is still a resistive screen. The phone has an 8GB internal memory base, which makes it 1 hand over the HD2, but the screen is still 3.7inches so the HD2 wins.
This phone has some great things. VZW bands, 3.7inch WVGA AMOLED screen, 8GB internal memory, Wifi, Gps, Bluetooth, 800Mhz processor, and a pretty good 5MP camera. The phone will ship with 6.1, but shortly get a 6.5 upgrade.
I should be one of the first people getting one for a review and I will do some video—If I can—and I will compare it with the TP2, HD2, Droid1, Droid2, Imagio and maybe even the TG01 if it is out for VZW yet.
WM