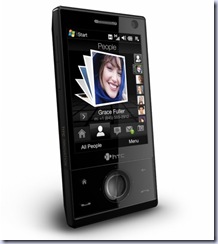 Well look who showed up all late to the party??
It's Verizon and it's not even right to call it "fashionably" late at this point but they will be releasing the HTC Touch Diamond in March. The Diamond has been talked about ad nauseum yet still is a very cool device. Yet Sprint released the Touch Diamond back in September and even it's bed buddy Alltell released this last year but as they say, better late then never.
Another interesting tidbit I found out about is that Verizon will be offering it's Samsung Omnia for $99 after a 2 year contract. That's a VERY good price for what is a power packed smartphone. Hmm, Touch Diamond and Omnia on the same carrier, I smell a catfight.
Thanks to Engadget Mobile for the heads up. Click here for this and more info on verizon's plans for next month.