It seems Verizon, who is always last with the latest had sets, have been working on releasing an HTC Touch Diamond after all.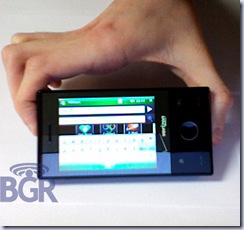 The BGR has published exclusive pictures of the device being used for testing, and is typical with a Verizon device, its not just the same version as released by others. Verizon have done their usual "tweaking", and the smartphone sports only 128 MB RAM vs the 192 in all the other Diamonds.
To compensate for this travesty however they replaced the 4 GB Flash storage with a microSD card, which in this day and age of 16 GB memory cards can only be considered a good thing. In addition they will be releasing the device with the faceted rather than flat back as Sprint did.
The full specs are as follows:
CPU: Qualcomm 7500A
Speed: 528 MHz
RAM size: 128MB
Flash size: 256MB
Display resolution: 480×640
3.2 megapixel camera with autofocus
Of course its not certain this device will even come out, since nothing in this regard has been leaked yet, and even if it does it seems by that time many of us will be sporting a Touch Diamond 2, but I guess better late than never.