We know the Samsung Omnia 2 is not very far off on Verizon, and in the mean time they need to get rid of all the old stock. The Samsung Omnia is being sold for only $29.99 on a two year contract, which is pretty cheap for a 8 GB smartphone with a 5 megapixel camera.
If you want to spend even less, Verizon has a one day only discount code which should bring that price all the way down to a mere $5 (if you are lucky).
Gaze on the Samsung Omnia here, and if you want to buy try the discount code below.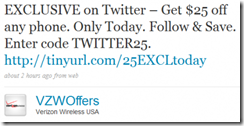 Via WMExperts and Pocketnow.com