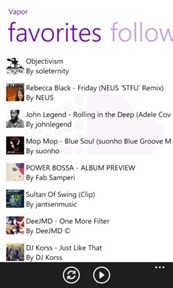 SoundCloud is an online audio distribution platform which allows musicians to collaborate, promote and distribute their music.
Vapor is a Windows Phone 7 client using the SoundCloud API which allows users to listen to their favourite tracks and discover new tracks on their Windows Phone.
Current features includes the ability to listen to your tracks, favourites, latest tracks, tracks of friends and view user profiles of followers and followings with more features on the way.
Vapor is free and can be found in Marketplace here.