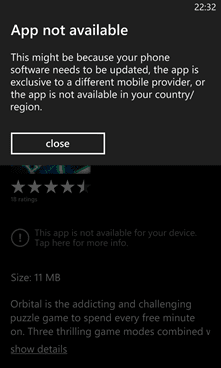 Windows Phone 8 was meant to be 100% compatible with Windows Phone 7.5 apps, but many users are discovering that apps they have paid good money for on Windows Phone 7.5 are not available on Windows Phone 8, including a number of Xbox Live games.
Valradius writes that two of his purchased games, Doodle Jump and Orbital, refuse to install on his Nokia Lumia 920 after upgrading from his Samsung Omnia 7, with the error "App not available."
In fact Doodle Jump appears to have been unpublished from the store, and Orbital says it is only available for Windows Phone 7.5.
Given that there are only a hundred odd Xbox Live games, and that they are often on the expensive side, a company of Microsoft's size and resources should really have done more to make sure either their flagship games work, or that those who upgrade are refunded for their losses.
Have many of our readers been affected by this issue? Let us know below.
Thanks Valradius for the tip.