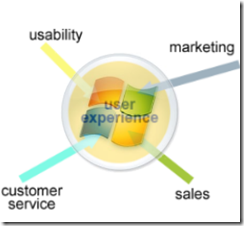 According to an interview with Microsoft's Indian design division, user experience (UX) is now the buzz word that drives all of Microsoft's product design from smartphones all the way up to Windows Servers.
Deepak Menon, group design manager of the 20 strong Microsoft India Development Centre (IDC), who have contributed to Windows Phone 7 and Bing search engine, said:
"It's no more plain colour or some colourful packaging of apps. The experience is getting embedded into an application right from the stage of conceptualisation," he said.
"It's like a car. Every car in a particular category has a steering, four wheels, comfortable seating and modern dash board. What differentiates is the design and colour. Now, it is becoming equally applicable to technology and software products as well,"
In fact, the internal strategies of Microsoft are putting the experience factor on par with two other key factors in a product design – business and technology.
"It used to be the B (business) and T (technology) matrix for designing and selling a product all through. But, things have changed now. It is a BXT matrix now. Right from sourcing to analysis to the entire lifecycle of the development of a product, the design and user experience have become key differentiators," he said.
While this focus on user experience has already left some major features on the cutting floor when it comes to Windows Phone 7 (examples include removable storage and cut and paste) it does not mean the halt to technological development, merely a refocusing.
The company is currently researching natural user interface technologies. "Face recognition, voice, gesturing, etc, are the technologies that are being developed. The user interface will definitely go through a major change once these technologies become available."
A focus on user experience over technology has certainly seen Apple do really well in the market.  Is this the right strategy for Microsoft and Windows Phone 7?  Let us know below.
Read more at this DNAIndia article here.