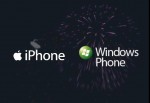 Professor Dennis Gallatta at the Harvard Human Factors in Design lab has performed a usability study comparing iPhone, Windows Phone 7, Android and Blackberry, seeing how well novice users were able to complete 3 tasks – make a call, send a text and add a contact.
While Windows Phone 7 did pretty well, I think the study revealed a major weakness in the stylish Metro design – some icons are not as intuitive as the designers of the UI may have imagined, leading to poor discoverability.
Of course how novice users fare is not necessarily a good test of usability – is is how easily one completes tasks once one is over the familiarity bump that is also important, and hopefully that will also be tested in the future.
While Windows Phone 7 did well in this test, I can help but feel it could have done even better with some further design tweaks.
What do our readers think? Let us know below.