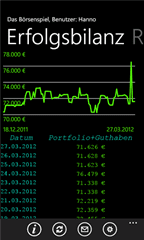 The developer of the very popular Windows Phone game "The Stock Game" notified us that there is an update available for the game. Hanno, the developer, describes the update like the following:
The Stock Game, update to 3.1

Because of a lot of trouble in last weeks with extremely slowly and unstable downloads of the stock data from yahoo, the new version changed mainly internal a lot.

New features of version 3.1:

– Significantly faster

– Commodity trading works again

– In the trading history you can see the paid fees

– Positions after decimal point are more precise by currencies

– Private chat finds other users faster

– The Hungarian Forint is now part of the currency list

Still this app is unique in marketplace and even for iOS or Android are no similar apps are available. No other apps offers the posibility to watch all other players in the game. You can see their trades, the stocks they succeed or loose money. With the chat system you are part of a community and you can learn a lot about the markets in the world.
Get the update here:
The Stock Game (Free):
The Stock Game: