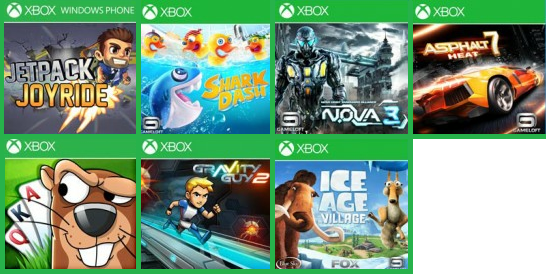 WPCentral have collated the some upcoming Windows Phone 8 Xbox Live-enabled games from the  Xbox website.
The titles include:
Asphalt 7: Heat
Take on the world in six different game modes in tracks across the globe, driving the most amazing cars by prestigious makers like Audi, Lamborghini and Aston Martin.
Fairway Solitaire
Unique gameplay combines solitaire with golf to create an experience unlike any other. Play sequential cards to create long runs. Long runs make long drives, and long drives make better scores!
Gravity Guy 2
You are the master of gravity! Reverse the polarity of the world to manipulate your surroundings and reach the end.
Ice Age Village
Scrat's hunt for his favorite acorn has opened a crack in the earth's crust, sending the animals scurrying for safety. Help them in this heroic challenge and get ready for fun and surprises along the way!
Jetpack Joyride
Join Barry Steakfries as he breaks in to a secret laboratory to commandeer the experimental jetpacks from the clutches of science evildoers.
N.O.V.A 3
The Near Orbit Vanguard Alliance receives a desperate plea from Yelena to come to Earth. Once again, the hero must rise to save mankind!
Shark Dash
Shark Dash is a fun and engaging game that takes the physics puzzler to fun new heights with a unique cartoonish style starring funny little bath toys!
At this stage it is not known if all these titles will come to Windows Phone 7.5 also.
See videos for these games from other platforms after the break.
Asphalt 7: Heat
Asphalt 7: Heat - E3 Trailer
Fairway Solitaire
Fairway Solitaire Game for iPad & iPhone
Gravity Guy 2
Gravity Guy Walkthrough 2
Ice Age Village
Ice Age Village now on Google Play
Jetpack Joyride
Jetpack Joyride - Official Trailer!
N.O.V.A 3
N.O.V.A.3 - Near Orbit Vanguard Alliance - Producer Trailer
Shark Dash
Shark Dash - Cinematic Launch Trailer