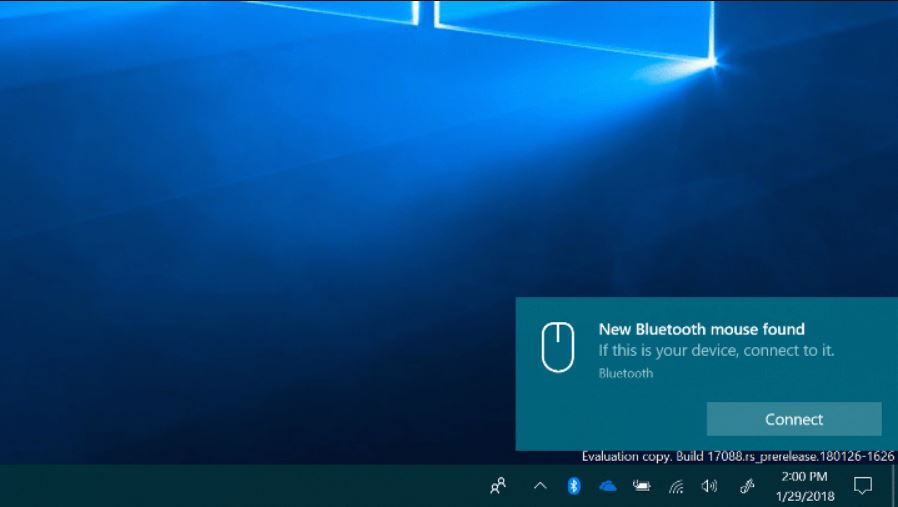 Microsoft last night released a new Windows 10 Build to Insiders in the Fast Ring. This Build 17093 comes with new
streamlined pairing experience for Bluetooth peripherals which will allow users to start pairing and connecting supported devices in a single click.
Here's how it works:
Put the Bluetooth peripheral in pairing mode
If the peripheral is close by, Windows will show a notification to the user
Selecting "Connect" starts pairing
When the peripheral is no longer in pairing mode or is no longer nearby, Windows will remove the notification from the Action Center
A user can also turn this feature off in the "Bluetooth & other devices" page. However this new experience will work only with select accessories. Microsoft partnered with Surface Accessories team to deliver the first accessory supporting this great new experience, the Surface Precision Mouse. Microsoft is working with many other accessory partners including Logitech to grow the list of supported devices.
"[This feature] aims at improving initial connectivity. It represents a very important element of the overall "out-of-box" experience of our devices. We are delighted to contribute to this important technical milestone and make our devices compatible with it," said Frederic Frappereau, Developer Relations at Logitech.
Source: Microsoft