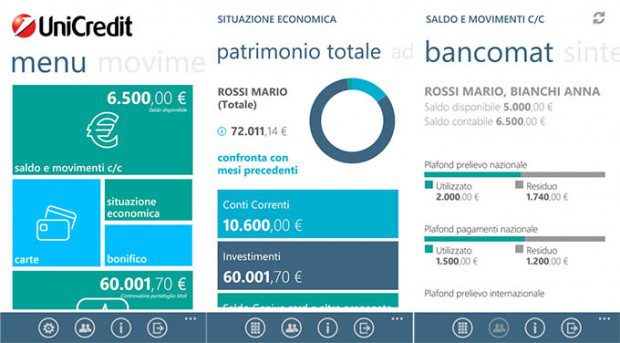 UniCredit Group is an Italian global banking and financial services company. They have released their official banking app for Windows Phone devices.
App Description (machine translated):
The Application of UniCredit for Mobile Banking conceived and designed in style Windows Phone.

With your smartphone you can operate easily, quickly and safely on current accounts, Genius Card, credit cards / prepaid UniCreditCard and to be informed about your investments and savings.

Just be customers of UniCredit and have joined the service Multichannel Bank private and / or company to:
ACCOUNT, CARDS and LOANS
• Know the Economic Situation ("Total Assets" and "Charges Expected")
• Consult the current account balance and transactions, Genius Card, UniCreditCard and other prepaid cards issued by the Bank
• Consult the details of the funding
• Making "Operation Quick", transfers and refills easy and safe to beneficiaries more frequent
• Arrange transfers and account transfers
• Recharge prepaid cards UniCredit
• Charge your mobile phone credit
• Paying of bills pre-printed (also capture Datamatrix code), in white, MAV, RAV and REP
• Lock UniCreditCard and Genius Card, possibly asking forgiveness
• Find the branch and / or ATM closest and define the path to achieve them
INVESTMENT AND SAVINGS
• Monitor investment and savings


• Negotiate titles, see the securities position and manage the orders given

The application also includes the innovative Mobile device integrated security token that generates one-time passwords, easily and fast, to be used for the confirmation of transactions in Multichannel Bank and via mobile phone.