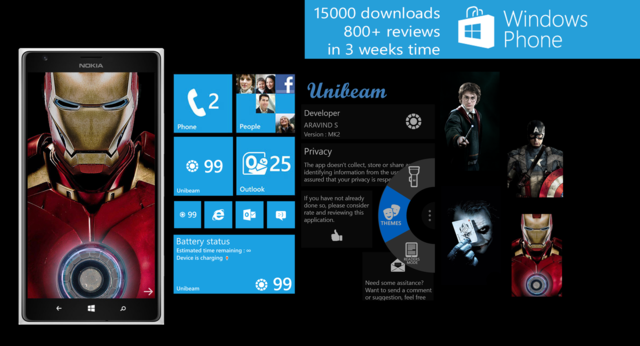 If you are in the market for a flashlight app, you have plenty of choices in the Windows Phone Store. Unibeam is one option to consider. While it can be a challenge to make flashlight apps stand out, It sets a new tread through its theme centred design featuring your favourite superheroes with animations and sound effects that kick in as you toggle the light. It may be hard for some to get excited about a flashlight app for their Windows Phone but Unibeam has an odd sense of appeal. The developers have tweaked the preview of their upcoming update MK3 (looks like they have their own style of versioning).
Unibeam
Version MK2
The application has crossed 15000+ downloads in just 3 weeks time since its initial launch and was well-received. The developers are committed to improve its experience through the user feedbacks. Do mail them your suggestions, feedbacks if any. Share the word, its worth spreading.
Features:
Tap mode : Simply tap the screen to turn on/off.
Tap & Hold mode : Turns on flashlight when button is pressed and turns off when released.
Full press camera shutter key to turn on/off.
Half press camera shutter key to implement the Tap & Hold mode.
Gesture support : Shake the phone to turn on/off.
Auto-on mode : Turn on the flashlight from the start screen by just tapping the live tile.
Supports multitasking & works fine when your screen's locked.
Voice command support : Say 'Jarvis on' or 'Open Unibeam' to turn on.
No advertisements, network data usage or tracking.
Readers mode : Good for night time reading.
Supports for all WP8 devices
Easy customization : Simply flick towards left to access the app settings.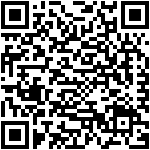 What's new in the upcoming update: Version MK3
SOS mode : Using Morse code format.
Live tiles showing battery status of the phone.
Added 3 new themes.
Removed extra requirements and UI tweaks.
Improved start-up time and various bug fixes.
The new version has reached the store for the certification and should be live before the New year. Grab the Unibeam MK2 today for free from the Windows phone store here or using the above QR code. Happy New year to all readers.