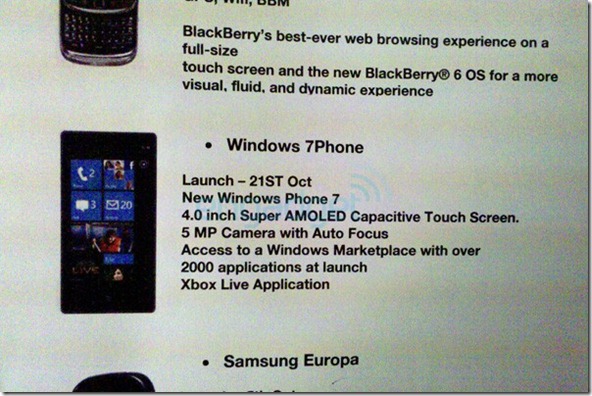 In just two days,Windows Phone 7 devices will be announced date officially. Still WP7 device leaks continues.
The latest leak is a roadmap of a UK based carrier. The roadmap specifies October-21st as the launch date which is pretty good, as devices will be announced on Oct-11th.  Also it states 4.0 inch AMOLED screen which likely indicated it will be a Samsung device, as the company is not supplying AMOLED screens to OEM's such as HTC anymore in any real quantity .
Other important information revealed is that, there will be around 2000 Applications at launch which is a pretty good number, considering the Windows Mobile Marketplace still has to pass 1000 in UK.
What do you think? Â Will you be satisfied with 2000 applications? Comments are always welcome.
Source: Engadget