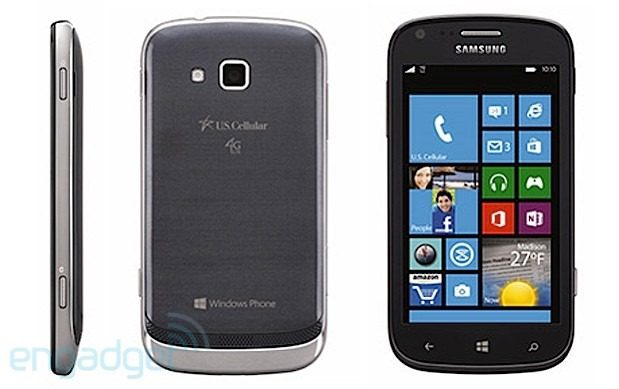 U.S. Cellular today announced that they are launching their first Windows Phone 8 device with 4G LTE, Samsung ATIV Odyssey this week. The device will be available online today and in stores July 11.
Press Release:
CHICAGO (July 9, 2013) – U.S. Cellular® (NYSE: USM) has announced availability of the 4G LTE™ Samsung ATIV Odyssey™ beginning online today and in stores July 11. This is the first Windows® Phone 8 device for U.S. Cellular, and it is $49.99 after a $50 mail-in rebate.
The Samsung ATIV Odyssey is the latest device to join U.S. Cellular's 4G LTE line-up that now consists of 15 devices, including the Samsung Galaxy S® 4 and several additional smartphones and connected devices. Currently, 61 percent of customers have access to 4G LTE speeds and 87 percent will have access by the end of the year. Customers who purchase the ATIV Odyssey from U.S. Cellular also receive a valuable rewards program that recognizes customer loyalty.
Read full press release after the break.
"We're excited to offer a Windows Phone 8 smartphone so our customers and potential customers have another option when looking for a device that meets their needs," said Joe Settimi, vice president of products, pricing and innovation for U.S. Cellular. "At U.S. Cellular, we want to provide a better wireless experience, and the smooth interface on the 4G LTE Samsung ATIV Odyssey makes and easy to stay updated and share meaningful moments with friends, family and colleagues."
The Windows Phone 8 operating system uses live tiles so you can personalize your Start screen, allowing easy access to the most important content in real-time, whether it is photos of your family, Office documents or your favorite app. The interface is similar to the Windows 8 experience on computers and tablets, so accessing your information is seamless across devices. With a 1.5 GHz dual-core processor and a 4-inch Super AMOLED™ touchscreen, the Samsung ATIV Odyssey displays vivid photos while movies and games play sharp and fast.
Additionally, the ATIV Odyssey includes several unique features that are exclusive to Samsung smartphones.
One of those features, Now, provides easy access to weather, news, stocks and more, so users stay up to date on important information all in one app. Shutterbugs can use the 5-megapixel camera and the built-in Photo Editor to apply filters, frames and stickers in addition to resizing, rotating and cropping photos. Once a picture has been edited and saved, users can share with friends or post to social media sites. The Mini Diary lets users keep track of daily activities through entries of pictures, drawings, location and audio, and it can be easily shared.
Highlighted Device Features:
Xbox Live® Integration
5 megapixel rear-facing camera; 1.2 megapixel front-facing camera
8GB internal storage, can be upgraded with up to a 64GB microSD card
NFC capable