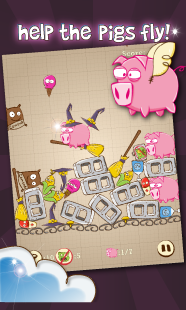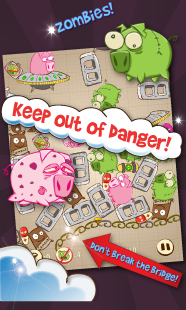 U.F.Oinkers is a creatively designed game of reflexes and tactics, where your goal is to help an army of cute little piggies fly away. Odd you say? Well, you can't blame them after years of disparaging "yeah, when pigs fly" quips, can you?
The game starts slowly. To the impatient it may even look like there's not much to it, but look again! Dig a little deeper and you will see it unfold with new tactics and loads of strategy, ramping up in speed and with that so will the adrenaline! The main object of the game is to drag the little oinkers to a flying contraption, something you'll have to put together yourself, while avoid breaking the chain-linked bridge at all cost. Once airborne, the pigs will fly away safely and you'll need to get a certain number flying before you can complete each level.

Nearly every single level brings a new type of twist to the gameplay. The piggies need to eat and drink water, so you can raise your high score. Keep in mind, the more food a single oinker eats, the less points it gets awarded for each food item, so sharing is key! Also, like real life, the food can go bad if it sits around for too long. And If the bad food is eaten, that piggy will get a tummy ache and won't be able to fly, eat or drink unless given medicine or healed with a power-up. One use of the latter will take care of all sick piggies at once. And that can be really handy!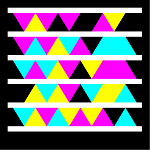 Fan of zombies? UFOs have evil twins which will barge in when least expected. They cannot eat or drink water, just like a piggy with a tummy ache, until they are inoculated with an anti-zombie kit. At first they may even look pretty innocuous, but let them get to a flying contraption and watch them wreak havoc. And that's not all! Watch out because after a certain level these little troublemakers get contagious, turning every piggy they touch into a zombie, requiring you to step up your oinker-flying mojo to new heights or use one of the cool power-ups to help you.
Water is usually considered a good thing, but in this game you'll have a love-hate relationship with it. If an oinker drinks it, you will receive points. If the water touches a cement bag, it will turn it into a cinder block, which is heavy and takes up plenty of space. Let too many things pile up on the chain-linked bridge and it will break, requiring you to start the level from the beginning. While cinder blocks are indeed heavy, they can come super handy if used properly. You can fix a cinder block into place and it will carry all the weight you can pile on it. And if strategically positioning a few of these blocks to take the weight off the bridge seems like too much work, you can use pushpins to secure the bridge in place – another cool power-up to make your gameplay more enjoyable.
Wondering how to get all these neat power-ups? Glad you asked! You need gold coins and the way to get those is by getting hold of the golden piggy banks. But you have to be quick. These are not like the rest of the items you are used to and will fall through thin air and disappear unless a piggy can catch them. Sick and zombie pigs don't count though!
Go ahead and pick up the game from the Marketplace and prove yourself a worthy leader of the unidentified flying oinkers squadron. Thanks for playing!