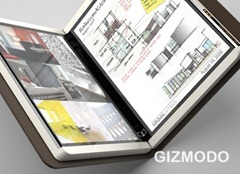 Digitimes, with their close industry contacts, has one again leaked some tasty info.
On this occasion they claim, pretty confidently, that Compal will be producing two tablet PC's for Toshiba, one a standard Android one and the other powered by Windows CE 7.
Toshiba has announced last week that they will be producing the same tablets, but at the time they were labelled as simply an Android and Windows one, making it appear that the Microsoft version actually ran Windows 7 on an Intel chip, like the HP Slate.
According to Digitimes however the tablets will run on Nvidia's Tegra 2 processor, and the Windows CE 7 version will feature dual screens.
Apparently Compal Electronics will ship the tablets at the end of 2010 or early 2011, a time scale which slots in pretty well with that recent New York Times Microsoft Courier leak.
Toshiba has traditionally had a close relationship with Microsoft, being one of the first to make a Plays for Sure PMP and then being the first OEM of the Zune device before Microsoft took manufacturing internal.
Could this rumour be all about the Courier? Let us know your thoughts below.