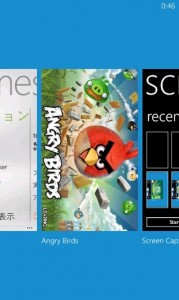 We recently saw the release of a screen capture tool for Windows Phone 7 which allowed screens from silverlight applications to be saved.
The tool did not however work for XNA games, merely producing black pictures.
Nanapho.jp however thought of a creative work-around. Â By holding down the back button, the screen shots can be taken from the multi-tasking screen, where the OS itself does not seem to have an problem capturing screen shots of games, videos and even the camera viewfinder.
Screen shots are at a reduced size of 432 × 259, but that of course is still perfectly fine for illustrating something on the web, and miles better than taking a photo of the screen.
Read more about this simple 'hack' at Nanapho.jp here.