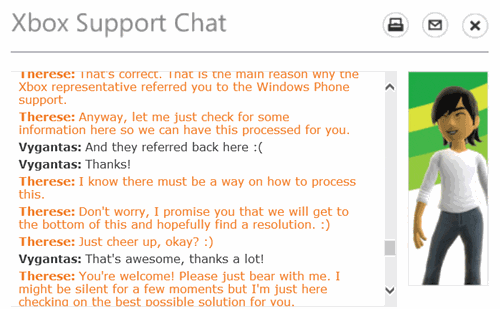 We posted 10 days ago that Microsoft was now accepting requests to change Xbox Live countries.  Apparently however this process is only enabled if you own an Xbox 360 console.
A solution has however been posted on Reddit which should help the Windows Phone users who happen to not own Microsoft's console.
I_sh*t_Karma writes:
Following the recent country change announcement, I was informed that the change can't be done because I don't use Xbox and technically, it's not the Xbox account! After few weeks of frustration and repeated attempts, I finally solved the problem.

Simply contact Xbox support and tell them that there is a way to change your country Id by using the Migration Tool (not many reps know about that, thankfully, this time, one of the reps, Therese, got my inquiry and she knew what she was doing).

That's it! They will take your phone number, email and call you within 24-72 hours.

Enjoy the content.
Microsoft can be contacted at Xbox here under Billing > Account Management > Other. Like the other method this can also reduce the functionality of your Windows Live account for up to 6 weeks, but most features like your email should still work fine.
Read the post at Reddit thread here.
Thanks Miscer for the tip.