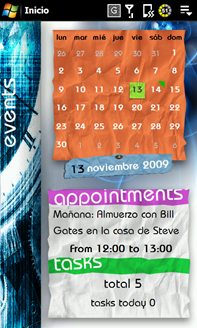 Throttle Launcher: This application has been around for some time now, and it is still one of the more popular UI for WM. I was recently going through their inventory of themes, and found some really nice ones for example the screen shots right next to this are from their Meizu M8 section and the next is from the XpertFS post. This application is free, but you do have to sign up for the site, or donate about $1 from here.
After using this for some time now(4 months ago) I can say its fun to be able to switch between 10+ deferent UI's in a second. I would not go with this over TF3D 2.5, but I am becoming more into one UI at a time now.
Throttle Explorer: If you are tired of the boring old Windows Explorer and want something a little different to go with this, might just be for you. This not so new, but very nice file explorer that puts a little more work into making the UI looks good and is feature packed: Download here.
-Multidisplay support (all screen resolutions!)
-Awesome diamond default theme designed by Lycox!
-Extremly finger friendly
-Smooth and light.
-D-Pad support.
-Really fast navigation
Send files over bluetooth
Copy, Paste, delete and edit files and folders properties.
-Order and grouping by Date, Extension and First Letter. Groups can be collapsed.
-Fully skinable.
-Scrolling on the right moves directly between categories
-Fullscreen: Minimize using a top-down gesture.
Throttle Lock: Throttle, the more popular lock screen app. This app was recently updated 3 months ago and now it supports HTC's G-sensor, so the dots can move around as you tilt your hand left and right. The idea is very good(Mine BTW) and he did an okay job with implementing everything to work correctly together. I used this for some time, but did not like it that much. You can get your self a copy here.
Added 3D effect based on GSensor (will work on Omnia and HTC GSensor enabled devices). Can be disabled thorught the settings dialog.
Added Active tasks notification icon.
Added Upcomming appointments notifications icon.
Added Notifications dialogs showing:
Number of Unread emails and the last unread email subject
Pending tasks
Unreaden SMSs and the last unread body.
Next Upcomming appointment if it's in the next two days.
Number of missed calls and last missed call.
Added minimun time lapse after last power off before ThrottleLock autmatically locks the device.
Fully redesigned settings dialog.
Now if text size for the clock is 1, clock is not painted.
Skins inherint graphics from the default one.
Added ThsDownload so Gold users can download their licenses directly from the device.
Added AppToDate support.
Throttle Storage: "Have you ever though…. where is my storage space going to!!…. This is a new app I've developed!! . It shows you graphically how your storage space is being used displaying a circular chart so you can easily locate which folders are taking more storage. You can navigate through all of your folders and analyze each one in detail or exclude them from the report. Easy and simple!!
This app concept is based on the classic FileLight Linux app. All credits for their idea go for them (or who ever they take the idea from…)" That is what the developer of this app had to say about the app it self. It is a very simple app that is more of a demographic sort of thing going on their. Download here
Startup the app… It will start exploring your device to take the sizes of the files, please be patient it may take from 30 seconds to a couple of minutes depending on the amount of files….

When the app has ended loading the info if will display a little cake graphic. The biggest pieces of the cake are the folders taking more space. You can tap&hold on a folder (for about 2 seconds) and a menu will popup with 3 options:

– Browse: will open the explorer in the selected folder.

– Analyze: will draw a "cake" using that folder as source.

– Exclude from report: will remove that folder from the report.

You can also drag your finger on the cake to see the different folders and it's sizes on the top text label.
PS:What I said about the Idea being Mine is actually true, but apparently the developer does not like to give credit where the credit is due and I could care less, because it is not even that good of an app.