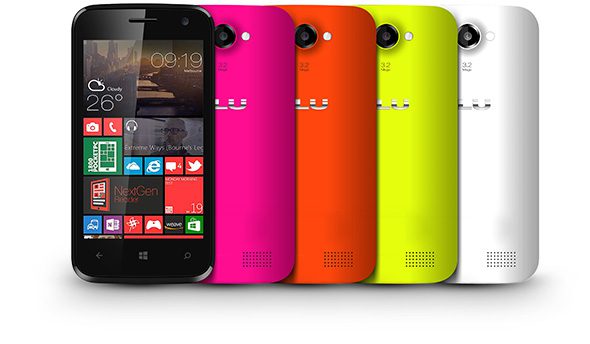 I originally planned to give a Blu WinJr smart phone to my wife as a replacement for her Samsung Gravity Q running Android 2.2. In spite of the big upgrade in performance and specs, my wife did not want to learn a new user interface so I ended up with a second phone to accompany by Sony Xperia ZL. I am a techie who runs 3 operating systems on my computer (Windows 8.1, Oracle Linux 7 and Chakra Linux) so I felt intrigued by the opportunity to explore both the Windows phone operating system and the performance of what would be considered a significantly more low end phone than what I currently use.
The Blu WinJr has significantly lower specs than what I and used to using
| | | |
| --- | --- | --- |
| | Blu WinJr    | Sony Xperia ZL |
| RAM  | 512Meg | 2Gig |
| Internal Storage   | 4Gig | 16Gig |
| Processor       | Quad-core    1.2 GHz Cortex-A7 | Quad-core 1.5 GHz Krait |
| MicroSD slot  | Up to 64Gig | Up to 64Gig |
| Screen Size  | 4 inches | 5 inches |
| Resolution | 800×400 233ppi | 1080×1920 441ppi |
| Camera  | 5 megapixel | 13 megapixel |
The other basic big differences are that the Sony Xperia has LTE, NFC and Bluetooth 4 while the Blu WinJr has no NFC or LTE and has Bluetooth 3.
You would think then that this review would be a litany of disappointments with the Blu WinJr. Surprisingly the story is quite different because of my user needs. I never use NFC and my HSPA+ speeds with Rogers in Canada are quite comparable to my LTE speeds in real world use. As with any unlocked phone, you have to research and specify the APN settings for data access and for sending multimedia text messages. The pedestrian camera without auto stabilization will not take very elaborate pictures. However, since owning smart phones, I may have only taken a grand total of 40 pictures with them. If I need quality, I use a digital SLR at home from Canon.
I have a few primary uses for my smart phones. 1) Browsing the web and reading books on my break times. 2) Texting and Emailing and 3) because I am a Transit Operator for the Toronto Transit Commission I often answer questions from passengers when I am not driving my bus so I always keep a GPS mapping application active such as the system Maps app and a transit app like Moovit to help give lost customers the best advice for how to reach their destinations. In these key functions, the Blu WinJr performs admirably. The ability to store maps offline is a key function for me but I did find it odd that while I could store maps on an SD card with the Here Beta app in Android, I could only store offline maps on the Blu WinJr internal storage which seems to contradict the Windows Phone documentation.
The screen is not quite as fast as the Sony Xperia ZL but it is fluid and responsive. I found that updating the software using the Windows Developer Preview helped overall performance. I am currently running OS version 8.10.14219.341. Cortana works as long as I set the region to United States and I have not found any programs that I could not run or which ran poorly due to memory limitations with the possible exception of Netflix. I understand that most of the programs that require 1Gig of memory are graphics intensive games which I do not play anyway so this has not been an issue for me.
The screen is clear and easy to read. At 233 ppi, it is not as crisp as as what I used to. 441 ppi really makes the Xperia screen read as sharply as the printed page. I think that the sweet spot for screens is 300 ppi and above. Beyond this the eye does not notice much difference in a functional sense but graphics have more depth. I found that the Blu WinJr was able to play videos and web video content with no problem. Unlike the Sony Xperia ZL though, it was not able to handle Netflix. I would rarely watch movies on a 4 or 5 inch device regardless of resolution so this is not an issue for me.
Android has the advantage of wide ranging customization with various launchers available. I have 3 on the Sony Xperia ZL – the standard Xperia skin, Google Now and a Windows 8 style launcher. Windows 8.1 does not allow you the same customization options. However, I find the Live Tile layout to be logical and more efficient for finding the key applications that you use most. What I accomplish in multiple home screens with Android, I am able to get done with one scrolling home screen with folders in Windows 8.1.
I ran into a curious situation regarding Wifi speed and reception. My home router is a basic Linksys WRT310N which I have running Linux DD-WRT software. The Blu WinJr is not as sensitive as the Sony Xperia in picking up the Wifi signal at a distance and I found that the speed was significantly less than Sony. Fortunately the DD-WRT software has options for both increasing the broadcast power of the router and changing the Channel Width from 20Mhz to 40Mhz. This solved both issues and now my Blu WinJr wireless connection at home is comparable to the Sony Xperia ZL.
App choices in the Windows phone ecosystem were quite sufficient for me. Most people really use about 20 key apps and I either found the same apps available in the Windows 8.1 Phone Store or there were equivalent apps available. I did notice that some of the apps that I use in Windows phone were at a lower state of development than their Android equivalents such as CBS Sports and BBM. Both of these had much fewer menu options and less elaborate features. However, other apps more than covered these deficiencies.
I am sensitive to security issues and found it interesting how Windows Phone 8.1 and Android 4.4.4 handle security differently. Both systems now encrypt your phone by default and this is a serious step forward. Android 4.4.4 uses Selinux Mandatory Access Control in enforcing mode to limit what malicious programs can do. Windows Phone sandboxes all applications so that malicious code cannot access any important system functions. If you only install from the Google Play store you are protected from malicious applications and in Windows Phone, you can only install from the Windows Phone store. One issue that I have with Android apps is that many apps either ask for way too many privileges or keep asking to escalate their privileges as you upgrade them. Most programs do not need access to your location, phone book, photos, videos, test messaging system and have the ability to make phone calls but many Android programs keep trying to push the bar higher for access. Most Windows Phone apps only ask for location information and messaging apps ask for your contacts.
I do find it interesting that their are no antivirus programs for Window Phone 8.1 which is understandable given that the app store is a "walled garden" and the sandboxing makes malicious code almost irrelevant. Antivirus apps still are necessary in an Android environment if you install any applications from third party sources. There are many alternative apps stores in Android and while some have useful applications, it is a buyer beware situation. Overall, I was pleased with the state of Windows Phone 8.1 security.
I am impressed with the ability of Windows Phone 8.1 to run as quickly as it does in only 512Meg of RAM. The system of swapping applications to storage on the MicroSD card is quite efficient and allows rapid task switching. I am curious to see if using a faster MicroSD card would improve performance even more. I will experiment with this at a later date.
Overall, the Blu WinJr. as $90 unlocked smart phone competed well with a $400 Sony Xperia ZL smart phone. It performs all of the day to day functions that I need or most people need. When people ask me about what is the best smart phone to get, I tell them that it depends on what your needs are. If you want to pay for items with NFC, watch streaming HD video via LTE and want a camera that is competitive with a digital SLR, then you need a flagship phone. If your needs are more basic such as mine, the Blu WinJr is more than capable of being your daily driver smart phone.
by Ralph Ellis