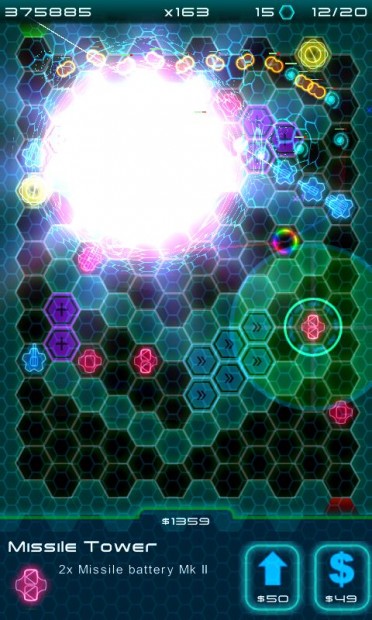 This week's Xbox LIVE title geoDefence Swarm is now live in Windows Phone Marketplace.
Game Description:
The Thinking Man's Tower Defense Returns! Introducing geoDefense Swarm, the sequel to the critically acclaimed geoDefense.
geoDefense Swarm takes all the dizzying vectorized visuals, vexing challenges and highly kinetic addictive gameplay from the original, and changes the equation – instead of defeating creeps along a pre-defined path, geoDefense Swarm challenges you to use your creativity, building mazes for the creeps to navigate across obstacle-laden open levels.NEW FEATURES

– Classic 'Open Field' Tower Defense Gameplay
– 30 Levels, Each With its Own Unique Challenges
– One 'Endless' Level in Each Difficulty Group – the Creeps Keep Comin'!
– geoDefense Swarm is OpenFeint Enabled – Featuring Online Leaderboards
– New Tower, new Creep, new Challenges!

With the ability to compete for the high score with friends on the leaderboards and exclusive Xbox LIVE achievements, this is a tower defense game like no other!
The game costs $2.99 with free trial available. Find it here from the marketplace.