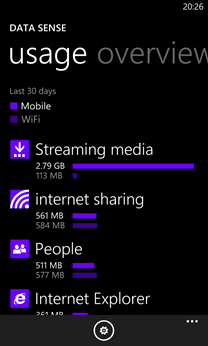 OK, the headline is a bit over the top, but if you are on a limited data plan and had many twitter followers there is a good chance you went into overages last month as the People Hub hoovered through multiple megabytes of data trying to update the avatars of twitter contacts, the consequence of a change at Twitter's end.
The good news is that the issue should now be resolves, as Microsoft has told the Verge:
Microsoft has confirmed, on November 10th, that the temporary issue is now resolved.
which is of course pretty much the same thing.
Now if I did have a limited data plan the 1 GB of data (half of it WIFI fortunately) I went through may have been a problem, and one starts to wonder about compensation, especially for those who are not blessed with Data sense, but since I have a truly unlimited data plan I will just celebrate the longer battery life.
Have many of our readers been affected? Let us know below.
Via WinSource.com