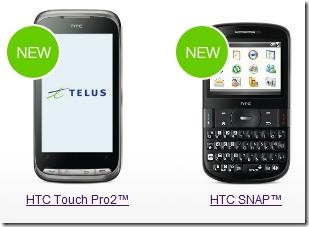 TELUS has finally started selling the HTC Snap and Touch Pro2. The Snap will be available for free on a 3 year contract, while the Touch Pro 2 will be $249.99.  Of contract the devices are $399.99 and $649.99 respectively.
Telus's HTC Touch Pro 2 famously is the first version with a 3.5 mm headphone jack, finally making it a competitive media-centric device also.
Read more at Telus here.
Via the BGR.