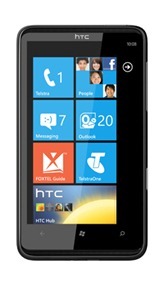 Telstra has confirmed they will be launching the HTC HD7 exclusively on the 29th March on their Telstra Next G® network.
"We are pleased to announce the HTC HD7 will be available exclusively on the Telstra Next G® Network in March," said Ben Hodgson, Country Manager, HTC Australia and New Zealand. "HTC has shown strong leadership in developing Windows® based devices in the past, illustrating our ability to be first-to-market. The HTC HD7 continues along this tradition with its focus on providing the ultimate multimedia experience coupled with a nice simple user interface and access to a broad range of useful applications."
According to Smarthouse.com.au, which we heard is not the most reliable source in the world, analysts are saying Windows Phone 7 is performing very well in Australia. They quote Mark Novosel, Market Analyst Communications, as saying the platform has done "extremely well in Australia" during the last quarter after all three carriers, Telstra, Vodafone and Optus backed the platform selling WP7 Smartphones from HTC, Samsung and LG.
Mark did not reveal numbers, but Smarthouse pegs it in the 5% range.  At Mobile World Congress Telstra Corp. Ltd. CEO David Thodey said  Windows Phone 7 devices have accounted for about 7 to 8 percent of new sales at Australia's largest phone company since they were introduced late last year.
Ross Rubin, executive director of industry analysis for NPD, said "Microsoft has made the case for Windows Phone 7's differentiation and improved integration." Microsoft next has several critical steps to take, according to Rubin: "Close the feature gap, offer more exclusive capabilities, work with partners to deliver hardware with better differentiation, and leverage its extensive experience in driving developer communities to increase its app offerings."
"HTC HD7 arrives at a time when Aussies are increasingly turning to their smartphones for entertainment and gaming," said Andrew Volard, Director, Telstra Mobility Products. "They're going to love the HTC HD7's huge screen for playing video or streaming YouTube®. Its snappy performance and access to a growing catalogue of Xbox LIVE® games also makes a really exciting games platform. And perhaps most importantly for our customers, the HTC HD7 is really simple to use with the Windows® Phone 7 operating system making navigation, composing email and accessing information incredibly easy."
The HTC HD7 is available for RRP $768 which can be repaid over 24 months when purchased in conjunction with a Consumer Telstra Next G® Cap plan or a Telstra Business Mobile PLUS Plan. It is available from 29 March from Telstra Stores and partners.
Read more about the device at Telstra here.
Thanks Soundman for the tip.