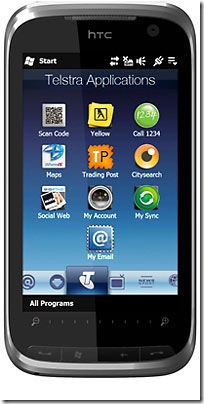 It seems Microsoft has a partner in Australia's Telstra mobile phone carrier.  The result of an alliance announced in November last year, the company has launched 2 data plans for Windows Mobile smartphones designed to compete directly with RIM devices.
The basic $39.95 plan has unmetered push email and a 100MB data allowance for internet browsing.
The $49.95 plan has VPN capabilities and a licence for Microsoft's system centre mobile device manager that manages fleets of devices.Those functions include remote lock and wipe of the device if it is lost or stolen and over-the-air application and service provisioning, said Telstra executive director for product management, Ross Fielding.
The services to start on July. "It's an alternative to BlackBerry email using a Microsoft based device," Fielding told iTnews.
"The number of [Telstra] Windows smartphone devices that come loaded with this capability will increase over time. We'll go out with a couple of devices next week but the number available will go up to five by the end of August or early September."
He said the browsing data limit was based on customer research and average data amounts pulled down by BlackBerry users on its network.
"We'll keep reviewing it," he said.
Early marketing efforts would focus on Telstra's hosted Exchange customers, Microsoft communications sector director Kevin Brough said.
Read more at ITNews here.