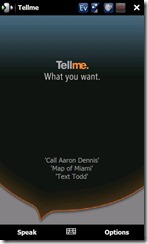 Tellme was meant to be a feature available to all Windows Mobile 6.5 users, but so far it has only shown up on the Samsung Intrepid.
PPCGeeks hackers have now partially fixed this situation, with the Tellme app being extracted from the Intrepid, making it available for download on all Windows Mobile phones.
The app is however not fully functional, with the touchscreen features not working properly on most handsets, but as the app is voice focussed this is not such a huge issue.
Download the app from PPCGeeks here and run the installer from your device. If the installer hangs you may have to create a shortcut manually.
Via Pocketnow.com