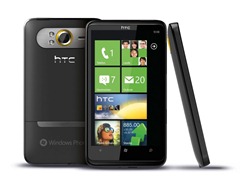 Its always good to hear carriers say good things about Windows phone 7, and on this occasion we have Josh Lipe, product manager for T-Mobile USA, talking about their Windows phone 7 handset, the HTC HD7.
"We're continuing to look at options with Microsoft how to move the platform forward. The customers are very satisfied with the experience." he said. "We've done well with the devices that we sold."
The HTC HD7 is of course the only Windows phone 7 handset on T-Mobile USA (the Dell Venue Pro not being available in stores, or at all mostly), and next to the Samsung Focus also, according to our polls, the most popular handset in USA, so the carrier likely has a disproportionate percentage of Windows phone 7 subscribers.
Another clue that the carrier is satisfied with the performance of handsets running the OS is that we are soon expecting the release of the HTC Mozart on the carrier.  The handset was initially expected to be a launch device on the carrier, is now rumoured to arrive in stores soon.
Read the full article, which covers mostly Microsoft's Azure service, here.