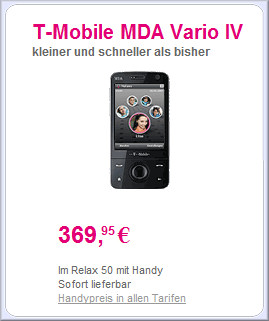 So far the only carrier selling the HTC Touch Pro has been Vodafone, but that situation is finally beginning to change. TamsPPC is reporting that the MDA Vario IV, T-Mobile's version of the HTC Touch Pro, is now available in Germany.
The smartphone will be sold for 660 euros contract free, and from as low as 309.95 euros on the Max tariff plan.
See more details on the T-mobile.de website here.
Via TamsPPC.com